Cornice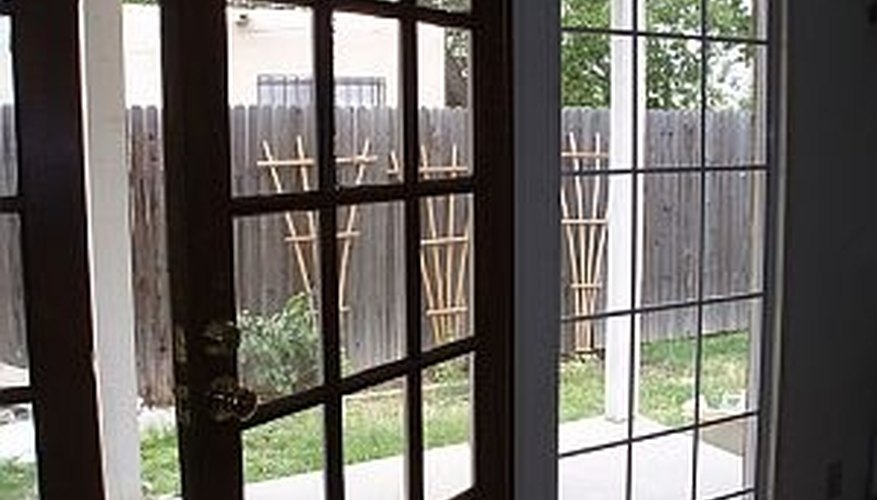 Choose window coverings that provide light control and privacy, if necessary, and keep the patio doors easy to use.
Whether your patio door is a sliding door or a pair of French doors, add a cornice above the width of the doors. A cornice is a three-sided box that attaches to the wall as a decorative header from which to hang window coverings. Construct the cornice out of wood and add a layer of batting and fabric over the wood, if desired. Make the cornice approximately 4 inches wide so that it is a small shelf above the patio doors. Place attractive decorative items on top of the cornice.
Sliding Patio Doors
Place vertical blinds over sliding patio doors to add privacy and light control. To walk through the doorway, simply pull back the vertical blinds. Vertical blinds come in vinyl, thin wood, cloth and aluminum. They also come in a wide variety of colors, and can easily match the room's decor. Install vertical blinds in conjunction with a cornice and the cornice can extend over the top of the blinds to hide the top of the patio doors, if desired.
Separate a sliding patio door in half with two sets of horizontal blinds mounted above the doors on the wall. The half of the patio door that does not open can have horizontal blinds extending the entire height of the door. Keep this half of the horizontal blinds all the way down. Raise the other half of the blinds all the way up to allow people to walk through the doorway.
French Doors
Cover the windows on French doors with curtain panels on curtain rods. Attach the curtains at only the top, or at both the top and bottom. Gather the center of the curtain panels with a sash of fabric to allow light through the window.
If privacy and light control are not concerns, place only a window valance above the windows to add a touch of color and fabric without covering the entire window.
Cover the windows with window film that adds a special frosted effect without blocking the light. Window film also provides privacy. Choose a window film pattern you like and cut it to fit the window. Window film is easy to remove.