Can You Use Box Springs for Bunk Beds?
Each set of bunk beds is made to different specifications, so giving a solid yes or no answer to this question is not possible. It depends on how the beds are made, the space between the top and bottom bunk and the height of the top rail. Therefore, this information discusses when it would be advisable to use a box spring with bunk beds, and when they really are unnecessary.
Safety First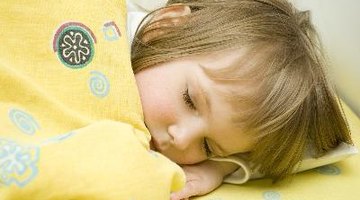 Since the top bunk bed typically is four to five feet from the floor, it is necessary to have an adequate safety system in place to keep children from rolling out of bed. This generally is provided by a set of rails along the sides of the bed. Depending on how the bed is made, these rails can be high enough to accommodate as much as 15 inches of bedding--a combination of mattress, box spring or bunkie board, so it is possible to use the newer low-profile box springs with most bunk beds. (Bunkie boards are mattress supports, similar in function to box springs, but thinner for use on bunk beds.) The surface of the mattress should be at least five inches below the top of the rails, for safety reasons. Also be sure that there is no gap between the bottom of the rails and the mattress to prevent injuries to little one's heads from getting stuck between them. The rail across the wall side of the bunk bed should extend fully from one end to the other, and the side which is open to the room should have a rail that is not open for more than 15 inches on either end. More detailed information about safety issues can be found in the government's bunk bed rules, which you can find at the Consumer Product Safety Commission website.
Practical Concerns
Using a box spring, even one of the lower-profile type, will take up three or four inches more of the limited space between the two beds and also will raise both beds by that amount from the floor. Sometimes, just a few inches can be the difference in whether or not a small child can climb into bed alone, and also feel safe in that bed. A bunkie board sometimes is a better solution for that reason, and the newest heavy duty types of bunkie boards support the mattress as well as a complete foundation or box spring. This is true even in the larger size bunk beds, such as those with full or queen sized beds on the bottom. Additionally, purchasing bunkie boards instead of box springs is much less costly and will usually result in the savings of several hundred dollars.
References
Resources
Writer Bio
Denise Gabbard has been a writer as well as a SEO and social media professional since 2006. Her blog helps writers earn a living with their skills and she works with small businesses to create and enhance their online presence. As an empty nester, she is tackling completion of her B.A. in business at Columbia College.
Photo Credits
More Articles