Bed Steps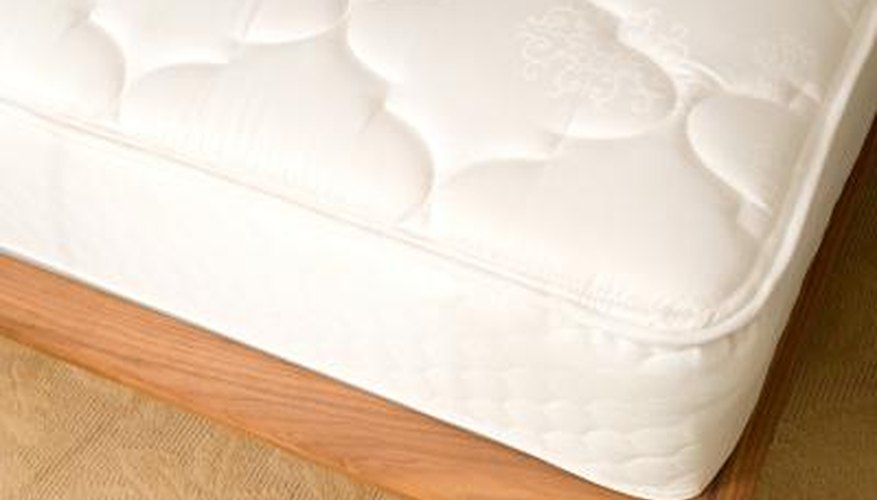 Top these off with firm and plush pillow-top mattresses and the bed can seem to soar toward the sky. Many beds are indeed high, and if you're elderly, short or even simply of average height, mounting one of these high mattresses isn't all that simple. There are, however, a couple of simple ways to make climbing aboard the bed a bit easier.
A vast array of retailers feature bed steps designed exactly for the purpose of getting up onto a high mattress. They run the gamut from utilitarian to those made with rich cherry wood. Some of them even have built-in storage for an extra blanket or pillow. If the bed frame is wooden, it will look best to match the wood on the bed with that of the bed steps. If the bed steps don't come fitted with treads, consider installing some, since slipping and falling en route to a high mattress isn't a viable option.
Step Stools
Step stools may be used for getting up onto a high mattress. Caution should always be taken, however, since stools don't offer the convenience of butting firmly against the side of the bed as do most bed steps. They will definitely work in a pinch, but shouldn't be used by the elderly, as they do impose a risk for falling.
Adjust the Bed
Sometimes people fear the addition of steps or a stool, and opt to take the mattress and box spring off the frame or purchase a lower bed frame to bring the mattress closer to the ground and easier to climb upon. This isn't the answer if the bed is integral to the bedroom's decor, but is certainly a good safety option when dealing with elderly people or small children.