How to Identify a Honeywell Thermostat
Every Honeywell thermostat (every product, in fact) has a unique model number through which you can identify the thermostat model. The model number also helps expedite the purchase of replacements parts, as well as allow a Honeywell service professional assistant to better assist you.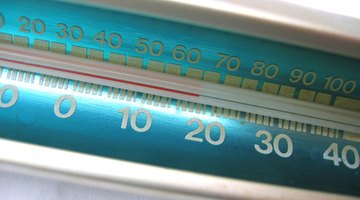 Remove the thermostat from the wall by unscrewing the mounting plate.

Flip the thermostat itself over and look for the model number, which should be printed somewhere on the back of the case. Thermostat model numbers all begin with T," "TH," "RTH" "C," or "CT." Oftentimes, there will be a "Y" in front of the model number.

Check the model number from your thermostat with the list of thermostats on the Honeywell website (see Resources). Each model also has a picture beside it so you can also identify your thermostat visually.
References
Writer Bio
Marlon Trotsky was born in St. Paul, Minn. and graduated from Mississippi State University with a Bachelor of Arts in Communications, while minoring in sociology. His work has appeared in various print and online publications, including: "The Trentonian," "San Jose Mercury News" and "Oakland Tribune."
Photo Credits
temperature image by Edsweb from Fotolia.com
temperature image by Edsweb from Fotolia.com
More Articles