How to Appraise Rocking Chairs
Trips to nowhere are those made in a rocking chair, a piece of furniture that dates to Ben Franklin's lifetime. Ben Franklin did not invent the rocking chair, and the inventor is unknown. The earliest rockers were cribs, followed by children's rocking horses, according to the Design Boom website.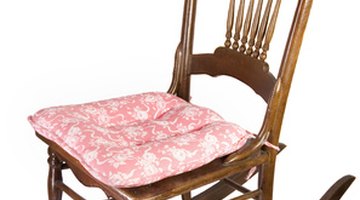 The Windsor rocker originated in England but had traveled across the pond to Philadelphia by 1750. New England craftsmen produced versions of the Boston rocker and the Salem rocker by 1840. Features, wood and condition all determine rocking-chair values.
Examine a rocking chair for original parts. A comparison of the wood, the finish or the paint may identify an old chair that has been fitted with newer rockers. Conversions from chairs to rockers are often seen.

Look for missing or replaced parts in a rocking chair. The importance of authentic parts to a furniture appraisal cannot be overstated.

Check for original finish and condition. Rocking chairs lose value with painting or refinishing, and condition issues, including wear, scratches and gouges in the wood all devalue furniture.

Identify the wood. The wood may identify the age of the rocker as well as the quality. Birds-eye maple, walnut and exotic woods signify high-end furniture. Painted pine is inexpensive and lesser quality. Cherry and maple were woods used in the early 20th century in the U.S.

Determine the style and era. Compare the rocker with known styles and decide which era best matches the style. Take photographs of the item for research and for a record of condition. Measure the chair.

Consider aesthetics and current trends. Appraised value is for today's market, and eye appeal and current trends affect furniture values.

Consider unusual qualities of the rocker. A small rocking chair with no arms may be a sewing chair, more valuable than a full-size rocker. A rocking chair with chrome parts may be a mid-century modern design with greater value than a rocker from the 19th century.

Ask for the item's provenance. Determine the history of the rocking chair. Value may be increased by historical documentation of where it came from.

Research values of already sold rocking chairs of the same wood, style and quality in current price guides and online marketplaces. Do not look at prices--check sold items only.

Arrive at a value range. You do not have to have an exact value, but appraise the rocking chair based on all known factors. Appraisal is not an exact science. Seek training in appraisal techniques, standards and ethics, or contact someone who has been trained to lend reinforcement to the values you have reached.
Things You Will Need
Magnifying glass
Measuring tape
References
Writer Bio
Linda Richard has been a legal writer and antiques appraiser for more than 25 years, and has been writing online for more than 12 years. Richard holds a bachelor's degree in English and business administration. She has operated a small business for more than 20 years. She and her husband enjoy remodeling old houses and are currently working on a 1970s home.
Photo Credits
armless rocking chair image by Scott Williams from Fotolia.com
armless rocking chair image by Scott Williams from Fotolia.com
More Articles