How to Clean Built-Up Oil on a Waffle Maker
Waffle makers are difficult to clean because of the grooved baking plates. They accumulate batter and oil over time, and since you cannot dunk them in water or use soap on the non-stick baking surface, removing cooking residue takes time.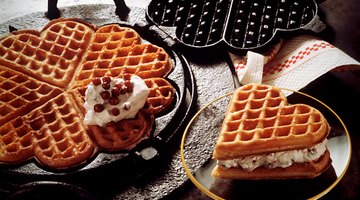 The non-stick surface does make it easier to remove the built-up oil, which comes off with a gentle scrubbing from a damp paper towel.
Things You Will Need
Paper towel
Rubber spatula
Damp cloth
Unplug the waffle maker and allow it to cool for two hours. Never try to clean the waffle maker when it is still hot.

Wipe the baking plates with a paper towel to absorb any puddles of oil and to brush away crumbs.

Use a rubber spatula to pry up any dried up oil spots. Do not use a sharp knife or any other sharp utensil.

Dampen a cloth with water and scrub the baking plates to remove any remaining built-up oil. Do not use soap or abrasive cleaners, which will remove the non-stick surface from the waffle maker.
References
Writer Bio
Based in Richmond, Va., Dawn Gibbs writes about topics such as history, fashion, literature, crafts, alternative medicine and healthy living. Her work has appeared on GreenDaily.com and several style websites. Gibbs holds a Bachelor of Arts in history from Virginia Commonwealth University.
Photo Credits
Eising/Photodisc/Getty Images
Eising/Photodisc/Getty Images
More Articles