Woodworking Projects With a Hidden Compartment
Woodworking projects that feature a hidden compartment can make excellent gifts or keepsakes. They can also reinforce the idea of security in your home, as these compartments can hold valuable items hidden from sight.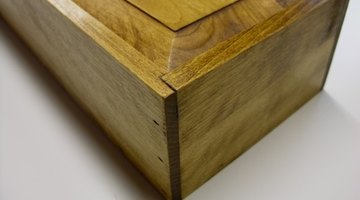 These projects vary in difficulty, but their value is also great as they have dual or even triple functions.
False Bottom Boxes
A simple woodworking project that can hold a secret compartment is a false bottom box. A box has only four sides, a bottom and a top. However, a false bottom can be installed that will not be visible from the exterior of the box. This can be done with jewelry, planter, bread and toy boxes, among many others. The exterior box appears inconspicuous and yet any number of valuables can be hidden away in these vessels.
Bookcase Treasures
The toe kick area of a bookcase can be designed to pull out for storing documents. "Fine Woodworking" suggests that this is hiding in plain sight, as the toe kick area at the base of a bookcase is assumed to be for support, when it is not actually a pressurized point on the bookcase as there are no loads upon it. Therefore, the flat piece can be the front of a shallow drawer. Another way to hide important valuables or documents in plain sight is in a hollow book. These can be constructed from wood, covered in leather or even painted and stored on the bookcase.
Desks
A secretary's desk with all of its files, drawers and compartments offers ample opportunities for a secret trap door. It would be difficult to spot the secret compartment among all the other openings. One drawer could open horizontally by pulling forward, then it could have a false bottom to open vertically. This would be invisible from the exterior. This type of desk is not streamlined, as its purpose is to mimic the concept of multitasking. Any valuable could easily be hidden this way.
Tables
The average household has a variety of tables including dining, occasional, end and bedside tables. Any of these could be produced in a wood shop. All lend themselves to the installation of a secret drawer or compartment below the table surface. This would be especially useful for bedside tables, as they often feature drawers. The drawers could be deepened with false bottoms, or a drawer could be placed at the back if the table is up against a wall.
References
Resources
Writer Bio
Rosalind Mohammed began writing in 2002. She contributes to various websites, specializing in writing about art and design-related topics. She holds a Bachelor of Environmental Design from the Ontario College of Art and Design and an honors Bachelor of Arts in English and fine art history from the University of Toronto.
Photo Credits
handmade candle box. image by Tom Oliveira from Fotolia.com
handmade candle box. image by Tom Oliveira from Fotolia.com
More Articles