What Is Better for a Backsplash: Ceramic Tile or Glass?
Table of Contents
The kitchen backsplash can put a gorgeous finishing touch on your kitchen design. Because this wall tile area does not get subjected to large amounts of moisture, such as a shower, or traffic, like a floor, nearly any tile material can be safely installed there.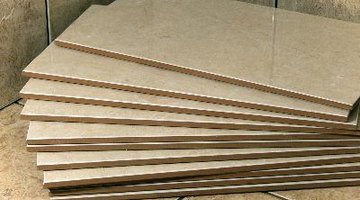 When making your material choice, consider both the installation and its appearance and maintenance to find the right material for you.
Ceramic Tiles
Ceramic tiles are clay body tiles that are coated in a thin layer of glaze. This glaze is actually a type of glass that is melted and fused onto the body of the tile. The result is a durable, easy-to-cut and install tile that can have a glossy, matte or textured surface. Ceramic tiles are easy to clean on kitchen backsplashes and can help to protect the wall from food splatters. Occasionally, ceramic glaze can crack or craze, necessitating a sealer being applied yearly to the tile to protect it from stains.
Glass Tiles
Many different types of glass tiles are on the market, all of them suitable for backsplash use. Glass tiles are made of solid glass. Some have pigments mixed into the glass for color, while others have color painted onto the back of clear glass. Glass tiles can be matte, textured or glossy in finish and can come in multiple sizes. Glass tiles are more difficult to cut and to install and for best results should be installed by someone experienced with the material. Special cutting tools are required, particularly if a pattern for the backsplash requires multiple cut tiles.
Ceramic Backsplash Appearance
Ceramic tiles are available in machine and handmade varieties and in a wide range of colors, sizes and styles. You can find machine-made tiles for little cost, which are easy to install and which give a clean, crisp look. Handmade tiles can give a backsplash depth, pattern and interest with picture tiles, relief tiles and hand-painted finishes. Ceramic tiles are suitable for all kitchen designs from contemporary to country and can be easily mixed with other materials, such as stone for an unusual look. Use them all over the kitchen easily.
Glass Tile Backsplash Appearance
Glass tiles are available in smooth, color-backed tiles with a crisp, modern appearance and in hand poured tiles with color and depth. Textured glass tiles, which are mixed with stone are available, as are mosaic blends with a great deal of color and movement. Glass tiles work well in transitional and contemporary kitchen designs but may look out of place in country, Tuscan or traditional kitchens. Glass mosaics are relatively easy to cut into borders for backsplashes to mix with other materials, such as ceramic, and can make a statement when installed alone behind a cooktop. Use them for color, light reflection and depth in dark kitchen designs.
Bottom Line
Both ceramic and glass tiles can be used on backsplashes without problems. Both are easy to clean and are suitable for use in this space. Make your decision based on style, color and material preferences; glass tiles are available in recycled materials for green building projects. Ceramic tiles may cost less or be easier to install depending on the specific brand and manufacturer. Both materials can also be used simultaneously in one space to create individualized designs and patterns.
References
Writer Bio
Sarabeth Asaff has worked in and has written about the home improvement industry since 1995. She has written numerous articles on art, interior design and home improvements, specializing in kitchen and bathroom design. A member in good standing with the National Kitchen and Bath Association, Asaff has working knowledge of all areas of home design.
Photo Credits
Tile tiled image by olegusk from Fotolia.com
Tile tiled image by olegusk from Fotolia.com
More Articles