Vinegar to Remove Odors in Upholstery
When upholstery begins to smell unpleasant, people tend to avoid use of the furniture. Since this creates an unwelcoming experience and area of the home, you want to remove the foul odor as quickly as possible. Vinegar works as a deodorizer in this situation.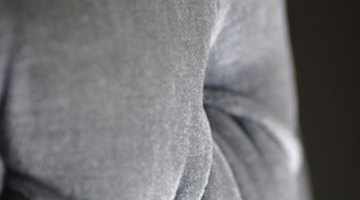 Odors That Can Develop
A number of unpleasant smells can accumulate in your upholstery through regular use of the area. Food droppings on the upholstery can create smells, or musty smells can develop when you store furniture in a garage or storage shed. Pet odors can even accumulate when you have animals in the home.
Using Vinegar to Remove the Odor
Vinegar luckily cleans the upholstery with ease, absorbing any odor while also disinfecting the surface. To use, fill a spray bottle with distilled white vinegar and lightly mist the vinegar over your upholstery. Let the surface air dry, and repeat the application as needed until all odor is removed.
Precautions When Cleaning
Never use cleaning routines that over-saturate the upholstery, which includes the use of the vinegar. Too much moisture can absorb into furniture padding and turn into mildew growth. Instead, ensure you are misting the spray gently over the area and allowing it to air dry fully before spraying on more cleaning solution.
Deodorizing Alternatives
If you don't want to use vinegar, baking soda is another natural deodorizing agent. To use, sprinkle a thin layer of the baking soda over the upholstery, let it sit for a few hours and vacuum the upholstery to collect the baking soda. Repeat as needed until your upholstery is odor free.
Writer Bio
Mel Frank is a professional freelance writer with over 15 years of writing experience. She has completed a wide variety of writing assignments for a number of publications that include CNN and various websites. Frank received a Bachelor of Fine Arts from a prestigious university in Pennsylvania.
Photo Credits
sofa image by Clementina Cabral from Fotolia.com
sofa image by Clementina Cabral from Fotolia.com
More Articles