Ideas to Display Bats on Walls
The great 19th Century American poet, Walt Whitman, wrote, "I see great things in baseball. It's our game -- the American game." Played by children and adults, prized by professionals and enjoyed world-wide, the sport of baseball is rich with memories and memorabilia.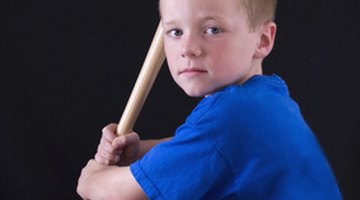 And often those memories -- baseball bats in particular -- are display-worthy. Whether it's the bat from a Little League game-winning hit or a favorite of a major-league, all-star hero, a special bat deserves a cherished space on the wall.
Traditional Displays
Hundreds of commercial bat display racks are available for purchase. These racks hold bats either vertically or horizontally. There are single bat displays, and others that grow as the collection does. Do-it-yourself bat displays are as simple as screwing a shiny, brass cup hook into a wall and hanging a bat from it on a leather cord. The advantage of this is that you can stagger the bats in height on the wall, creating a more compelling visual display.
Bat Wall Frame
Four or more bats double as a display and a frame for pictures, certificates, school athletic letters or other memorabilia. Create a frame on the wall with two horizontal parallel bats and two vertical ones arranged in a square. Mount extra bats inside the square to divide it into a horizontal or vertical segments. Placing leather thongs around the bats and screwing the leather to the wall protects them and helps hold them in place.
Acrylic Box Displays
An acrylic box holds a bat securely and helps protect it from harm and handling. For that extra-special bat that deserves a special spot, this might be the ticket. After you seal it inside the box, display it on a wall bookshelf, an office desk, a coffee table or any number of other prominent places. If the acrylic box has a wooden mount underneath, it can even be attached to the wall as a permanent display.
Off-The-Wall Ideas
Another option for displaying bats that moves them off the wall and invites visitors to pick them up involves simply putting them out in the open. Any tall container will do, such as a stoneware pot, an umbrella stand or a large, sturdy vase. This option has the advantage of mobility and can easily change to reflect a different decor or home arrangement. You'll want to skip this method though, for rare, antique or valuable baseball bats that shouldn't be handled.
References
Writer Bio
Jack Burton started writing professionally in 1980 with articles in "Word from Jerusalem," "ICEJ Daily News" and Tagalong Garden News. He has managed radio stations, TV studios and newspapers, and was the chief fundraiser for Taltree Arboretum. Burton holds a B.S. in broadcasting from John Brown University. He is a 26-year veteran of the U.S. Navy/Navy Reserves and the Navy Seabees.
Photo Credits
Eight year-old boy holding a baseball bat. image by Lisa Eastman from Fotolia.com
Eight year-old boy holding a baseball bat. image by Lisa Eastman from Fotolia.com
More Articles