Ideas for Framing a Cheerleading Uniform
Give me a F, give me a R, give me a A, give me a M, give me a E. What's that spell? Frame! During the span of a cheerleader's career important memories are created, and framing a uniform is an excellent way to retain them once the career has ended. Frame your uniform and freeze memories you shared with your team by adding photos, uniform accessories and awards.
Shadow Box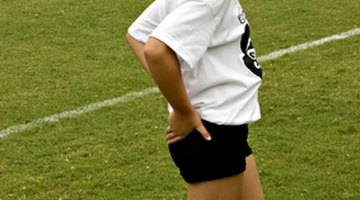 A shadow box is one of the best ways to frame a uniform. The case can be purchased at any arts and crafts store at an inexpensive price. Purchase a glass case that is 38 inches in height by 29 inches in width or larger; this will leave additional room in the box to add other small items. Iron the uniform and place it in the center of the box to give it a professional appearance.
Hair Ribbon
A hair ribbon is an accessory that most female cheerleaders wear to add an extra finishing touch and personality to their uniform. The hair ribbon is a part of the uniform and can be used to personalize your display case. Add the hair ribbon on an angle at the top of the display case; usually it looks best in the corner on an angle, but the placement of the ribbon is completely up to you. For male cheerleaders, add something else symbolic to cheerleading to fill the space such as a miniature pom pom.
Metals
Cheerleaders who compete usually have a metal or two that they received at a competition. Take a metal that is important to you and hang it on the side of the frame. Ideally, it looks best if you hang two (one on each side), but one will work fine.
Photos
Place a few of your favorite photos around the frame. Photos add character, and a picture is the best way to capture some of your most vivid memories. Choose at least four photos and place one at each corner of the frame. Think about what kind of photos you would like to see every day. Ideas include a team photo, a photo with the coach, a photo of the sports team you cheered for or a photo with close teammates.