Different Styles of Mansions
Mansions offer 6,000 or more square-feet of luxurious living space, typically containing more than a half-dozen bedroom suites and special amenities like a library, ballroom or grand, sweeping grounds. You can find these giant homes built in as many architectural styles as the rich can afford to commission.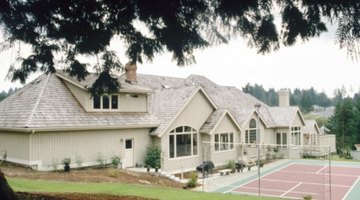 Depending on where you are, you can find mansions in several different styles.
Classical European
In the 15th and 16th centuries, country manors and Renaissance-era mansions began blossoming around Europe to house the rich and allow them to show off their financial wherewithal. Each region of Europe produced different architectural styles that have endured to this day, from the Italian and Mediterranean to the French and English manors. Most can be identified by a boxy symmetry, hipped roofs and "Georgian" or side-gabled roofs. Appearances vary widely, however, from Gothic peaks and gables to subdued, but expansive country estates, often appointed with ballrooms, studies and often just as many bathrooms as bedrooms.
Early American
The United States became a focal point for mansion construction shortly before the Civil War in the mid-19th century. Many builders re-created classic European styles on grand estates replete with walking gardens, swimming pools and tennis courts. This variety of classic architecture is epitomized by the mansions of Newport County, Rhode Island. This is home to the famous Breakers mansion that was built by railroad baron Cornelius Vanderbilt II in the Italian Renaissance style, as well as numerous others hybrid mansions like Isaac Bell's estate that combines elements of the classic English country mansion with the sweeping porches and porticos of the colonial American and Italian styles.
Revival Era
The mansions built in the colonial period assumed the architectural character of the mother land, resulting in Georgian, Greek, German, Spanish, French, Dutch and the British Victorian and Federal styles, each with appointments uniquely their own. Later in America's history, several revivals occurred that echoed these earlier forms in Gothic, Greek, Spanish, Mission and Colonial Revival styles. Tudor-style mansions came into fashion in the 19th and 20th centuries, providing a cottage feel with stately and dominant woodwork.
Today
The modern mansion incorporates dozens of architectural styles, but typically falls within the realm of a certain few: the International, characterized by a stacked, modern-industrial feel with exposed beams and enormous windows; the Craftsman style, with its low profile, gabled roofs and bungalow feel; and the Prairie, Art Deco and Modern Art movements that attempted to break the rules of the previous revival efforts.
References
Resources
Writer Bio
Dan Harkins has been a full-time journalist since 1997. Prior to working in the alternative press, he served as a staff writer and editor for daily publications such as the "St. Petersburg Times" and "Elyria Chronicle-Telegram." Harkins holds a Bachelor of Arts in journalism from the University of South Florida.
Photo Credits
Photos.com/Photos.com/Getty Images
Photos.com/Photos.com/Getty Images
More Articles