What Is Listello Tile?
"Listello" means "thin strip" in Italian; listello tiles, also called decorative border, listel or "deco" pieces, are design-specific tiles used to accent a particular "field" or main tile selection.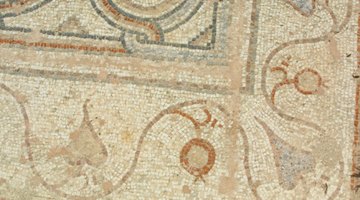 Like murals, liners and patterns, listellos are installed within field tile on kitchen back splashes, showers and flooring, adding pizazz and an extra wow factor to even an ordinary tile installation.
Mosaic Listellos
Mosaic listellos are generally rectangular, either hand-made or manufactured, and come in a wide variety of patterns. Flowers and plants, Old World designs and 1920s-style black-and-white mosaic listellos consist of multiple-colored individual stones held together by a fabric mesh on the back. The mesh protects the tile during installation and allows the pieces to be cut to fit specific areas.
Decorative Listellos
Decorative listello tiles typically have an interlocking pattern and are often created in a poured or "molded" form, which gives the tiles a rich, textured, three-dimensional look. Molded pieces showcasing fruits are a common theme in kitchen back splash applications, creating a warm, contemporary design motif. Decorative listellos often come with corner pieces that finish off the corners of the pattern.
Metal Listellos
Metal listellos consist of metals such as copper and wrought iron and commonly take on an Old World design. Metal-based listellos are used in kitchen back splashes and stone flooring, creating a rustic, earthy Old World look. Metal listellos are often used with slate, dark porcelain tile and granite. Used as insets to match a particular design theme, metal listellos are also occasionally used as trim pieces for field tile.
Natural Stone Listello
Natural stone listellos are typically made of limestone. The designs found on natural stone listellos are etched into the stone by a waterjet process, creating a rich, three-dimensional texture and a multitude of design and pattern options, including Old World, Asian and contemporary designs.
References
Resources
Writer Bio
Residing in San Diego, Calif., Tim Daniel is a professional writer specializing in politics. His work has appeared at both the Daily Caller and Pajamas Media. With more than 20 years of experience in the field of construction, Daniel also specializes in writing about tile, stone and construction management. He is pursuing a bachelor's degree in communications.
Photo Credits
Hemera Technologies/AbleStock.com/Getty Images
Hemera Technologies/AbleStock.com/Getty Images
More Articles