Genie in a Bottle Decorating Ideas
The words genie in a bottle conjure thoughts of flying carpets and magic as well as stories set to a backdrop of Arabian nights. To decorate rooms with this theme, you must incorporate not only the fantastical elements of the genie, but more common Moroccan decorating elements.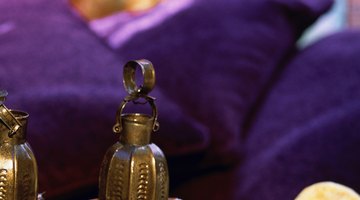 These decorative motifs work together to create a fantasy room that can hold its own against even the most luxuriously appointed genie bottles.
Rich Colors
One of the most ubiquitous aspects of Moroccan decorating is the element of color that this style of decorating embraces. Rich jewel tones provide the style with its decorating pizzazz. It's not uncommon to see colors like cobalt blue, lavender, mustard yellow, reds, deep browns and melon oranges mixed together. To add a genie element to this, look for pieces like old wardrobe closets or wooden trunks that you can paint in these colors.
Bed
A genie-style bedroom can feature a luxuriously appointed bed complete with canopy bed crown and free-flowing gauzy materials. To create the look, choose a canopy piece that either hangs on the wall in true bed crown style or one that hangs from the ceiling. Look for fabrics such as linen, tulle or silk. Don't be afraid to mix colors as you create the bed. Pair a vibrant blue comforter with flowing pink and purple bed drapes. Look for bedding that features a pattern such as Moroccan arches to give the bed visual interest.
Pillows, Carpets and Tables
One of the most common elements in a Moroccan/genie-designed room is the abundance of brilliantly-colored Oriental rugs and an assortment of multi-colored pillows. Choose a large area rug and center it in the room. Decorate with large pillows and ottomans with puffy tops and rich fabrics like silk. Center these accents around a low-lying table that you've painted in a vibrant color or and stenciled with a unique Moroccan pattern.
Accessories
While the genie decorating style is based upon Moroccan decorating, the accessories you choose for this room will make it seem like a genie-inspired room; they will build on the Moroccan style that you've created, but take things a step further. To create the magic of genie, find a low-lying vanity table with a Moroccan arch-shaped mirror. Place an assortment of genie bottle perfume bottles on the vanity. Look for replicas of the magic lamp; some of these have candles inside, making them functional as well as aesthetic. Look for lamps with silk shades with tassels in jewel colors such as emerald or Mediterranean blue.
References
Resources
Writer Bio
Buffy Naillon has worked in the media industry since 1999, contributing to Germany's "Der Spiegel" magazine and various websites. She received a bachelor's degree in German from Boise State University. Naillon also attended New York University and participated in the foreign exchange program at Germany's Saarland University. She is completing her master's degree in educational technology at Boise State.
Photo Credits
Goodshoot/Goodshoot/Getty Images
Goodshoot/Goodshoot/Getty Images
More Articles