Do KitchenAid Attachments Work on All Models?
KitchenAid stand mixers can beat cake batter, knead bread dough, whip egg whites and much more. KitchenAid mixers come with a flat paddle beater, a wire whisk and a dough hook.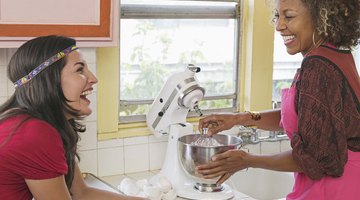 Attachments designed for KitchenAid mixers, including ice cream makers, pasta makers, meat grinders and juicers make your stand mixer even more versatile.
How Attachments Work
When you look at the front of your KitchenAid stand mixer, you'll see a cylindrical protrusion with an adjustment screw and cap. All KitchenAid stand mixers have the same hub drive, enabling you to use any attachment on any KitchenAid mixer. To secure an attachment, loosen the thumbscrew and remove the hub drive cover. Insert the attachment, rotating as needed until it locks into place. Tighten the thumbscrew.
Types
KitchenAid offers a wide variety of attachments for all stand mixer models. If you enjoy homemade pasta, rollers and cutters enable you to make a variety of homemade pastas. Committed foodies or homesteaders will appreciate grain mills, food grinders, flakers, and sausage stuffing attachments. Speed up food prep with slicing and grating drums. You can also purchase a fruit strainer, citrus juicer or ice cream maker to fit any KitchenAid mixer.
Bowls
While attachments work on any KitchenAid mixer, replacement and additional bowls are not necessarily interchangeable. A glass bowl and a smaller 3-liter bowl are available for common home models, like the KSM150 KitchenAid Artisan, but will not fit higher end KitchenAid mixers. If you would like to purchase other bowl accessories, including covers or spouts, make certain you purchase a size compatible with your KitchenAid mixing bowl.
Beaters
Buying attachments for your mixer is a simpler prospect than shopping for a new whisk, paddle beater or dough hook. Refer to your KitchenAid manual for your model number and compatible part numbers. Different mixers require larger or smaller beaters, so these parts are not interchangeable from one model to another. Replace a broken or lost beater, pick up a spare or take advantage of new beater designs, like a flat paddle with a scraper.
References
Writer Bio
With a master's degree in art history from the University of Missouri-Columbia, Michelle Powell-Smith has been writing professionally for more than a decade. An avid knitter and mother of four, she has written extensively on a wide variety of subjects, including education, test preparation, parenting, crafts and fashion.
Photo Credits
Jupiterimages/Brand X Pictures/Getty Images
Jupiterimages/Brand X Pictures/Getty Images
More Articles