How to Make an Ice Cream Pedal Bike
Ice cream pedal bikes are bicycles that have a freezer attached to them filled with ice cream. They are typically used by vendors on pedestrian paths to sell ice cream. Constructing an ice cream pedal bike in the traditional way involves welding and bike modification and can be a very challenging and expensive task.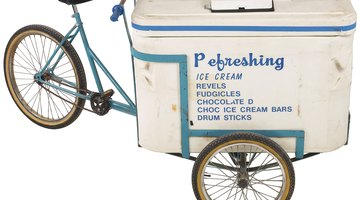 Instead, making a modified ice cream pedal bike achieves the same effect with less than an hour's work at a fraction of the cost.
Purchase a bicycle tow bar. There are many types of tow bars out there. Select one that allows the back end to be screwed into the towed object. Tow bars typically cost less than $100.

Place the wheeled ice cream freezer behind the bicycle. Place cement blocks under the front and back of the freezer to keep it level.

Attach the tow bar to the bicycle. Each tow bar will have a unique way of attaching to the bike. It will likely involve some type of clamp to the seatpost, seat tube or seatstays.

Have a friend hold the bike level and back the bike up to the freezer so that the back of the tow bar touches the freezer. Both the bike and freezer should be perfectly level. Hold that position

Screw the tow bar into the body of the freezer. The freezer's metal shell should easily be able to support the tow bar.

Remove the cement blocks and test the ice cream pedal bike.
Things You Will Need
Bike tow bar
Screwdriver and required tools (based on model of tow bar)
Wheeled ice cream freezer
Cement blocks or other stands
References
"The Bicycling Guide to Complete Bicycle Maintenance and Repair: For Road and Mountain Bikes"; Todd Downs; 2005
"Bike Repair & Maintenance For Dummies"; Dennis Bailey and Keith Gates; 2009
Writer Bio
Erick Kristian began writing professionally in 2008. He has a strong background in business and extensive experience writing fiction and articles related to spirituality and self improvement which are published on growingeveryday.com. Kristian has written several screenplays, produced numerous films, published books and written numerous articles on a variety of subjects. He holds a Bachelor of Business Administration from Schulich School of Business.
Photo Credits
Hemera Technologies/PhotoObjects.net/Getty Images
Hemera Technologies/PhotoObjects.net/Getty Images
More Articles