How Large Is a Rollaway Bed?
A rollaway bed consists of a foam mattress within a sturdy, metal frame that folds in half for storage. The metal bed frame has wheels or casters at the center to roll in and out of storage, making it convenient to set up for guests. Rollaway beds are designed to take up minimal space when folded.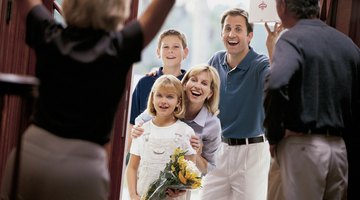 Before purchasing one, measure the storage space where it will be put when not in use to ensure the folded bed dimensions fit.
Dimensions When Folded
Standard rollaway beds, while folded, measure about 49 inches high, 40 inches wide and 17 inches deep. Different brands may vary slightly. Rollaway beds that are designed to be extra long may fold up to around 52 inches high, while extra wide rollaway beds will be wider, approximately 48 inches wide.
Dimensions When Open
A standard rollaway bed is comparable to a twin-size bed, which is 38 by 75 inches. With measurements between 32 and 39 inches wide and 72 inches long, a standard rollaway bed takes the same amount of space as a twin mattress. Extra long beds may reach up to 80 inches long, while extra wide rollaway beds can extend to 48 inches wide.
Extra Large Rollaway Beds
Extra large rollaway beds are on the market, with dimensions that are closer to a traditional double or queen-size bed. A double bed is traditionally 54 by 75 inches, while a traditional queen is 60 by 80 inches. Extra large rollaway beds feature dimensions between 48 by 72 and 55 by 80 inches when extended. Folded, these beds are approximately 52 inches high, 48 inches wide and 18 inches deep. Exact dimensions will vary by brand.
Storage Ideas
Rollaway beds can weigh between 80 and 200 pounds, depending on the brand, style and materials in the frame. Keep the bed as close to the setup area as you can for convenience. A bedroom or home office closet is a handy place to store a rollaway bed, especially if it is a walk-in style. Large linen closets may also contain enough space for storage as does a laundry room. Garages and basements are other locations with enough space to store a folded, rollaway bed. Try to store the rollaway bed on the same level where the bed will be used because maneuvering a rolling metal frame up and down the stairs can be difficult.
References
Writer Bio
Jenna Marie has been editing and writing professionally since 1993. Her editing background includes newspapers, magazines and books, and her articles have appeared in print and on websites such as Life123 and AccessNurses. She specializes in writing about parenting, frugal living, real estate, travel and food. Her nonfiction book was published in 2008. She earned a Bachelor of Science in journalism from Utah State University.
Photo Credits
Comstock/Comstock/Getty Images
Comstock/Comstock/Getty Images
More Articles