How to Repair a Sofa Bed
Almost every living room has some sort of sofa in it. This sofa can come in the form of a regular sofa, futon, recliner sofa or a sofa bed. A sofa bed is simply a sofa that has the ability to lower into a bed when the occasion calls.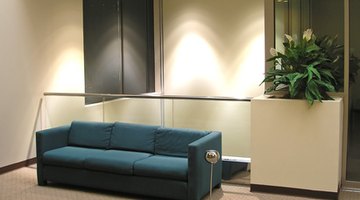 Not surprisingly, the sofa bed tends to be the most used piece of furniture in the room, and can sometimes be in need of repairs.
How to fix a sofa bed.
Inspect the sofa. Take all pillows and cushions off the sofa bed. Turn the sofa bed over on its side or front to check the underside for problems. Look for missing screws or cracked wood.

Tighten any loose screws. Use the appropriate tool such as pliers or a wrench for the form of screw the sofa bed has in place. Replace any screws that are missing from the frame or stripped.

Check for any cracked wood on the frame. Cut the desired size piece of plywood and use for a brace to repair the cracked or rotted wood. Lay the brace over the crack and screw the piece on with wood screws on each end of the brace to reinforce the sofa bed frame.

Open the sofa bed. Pull out the bed section of the sofa and check for any bent metal in the framework. Hammer the bent metal out straight.

Inspect the cushions of the sofa and check for any cuts or missing foam. Match sewing thread color to the color of the cushion cover and sew seams together with a needle. Unzip the cushions and fill with new foam padding commonly available at home craft stores.

Check sofa bed mattress. Sew up any holes or slits that the mattress may have received. A new mattress may be purchased if repairs are impossible.

Cover the sofa bed with a sofa slipcover available at many home retail stores if repairs cannot be made to the damaged sofa fabric.

Turn the sofa bed over right side up and sit. Check the braced frame and make sure it is steady. Make sure no foam or padding is coming out of newly sewed cushions.
Things You Will Need
Wood screws
Pliers or wrench
Foam or padding
Slip cover
Thread and needle
Hammer
Tip
A new sofa bed mattress mechanism may be needed if the metalwork is severely damaged.
Writer Bio
Rachel Turner has been writing professionally since 2000, focusing on gardening and home improvement topics. Her articles have appeared online at SlowTravel and in publications such as the "Arkansas Gardeners," "One Step Ahead" and "Writers Now." Turner holds a Bachelor of Arts in English from Arkansas State University.
Photo Credits
sofa image by Greg Carpenter from Fotolia.com
sofa image by Greg Carpenter from Fotolia.com
More Articles