How to Make a Bed Skirt Fit a Daybed
Daybeds are fitted with twin-sized mattresses, making it easy to outfit a bed skirt to work with the existing daybed hardware. Some twins-sized bed skirts come with cuts around each corner, making navigating the placement of the bed skirt easier, but any standard twin bed skirt can fit a daybed with a few minor modifications.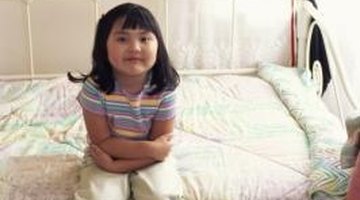 Remove the mattress for the daybed. Lift the mattress off the daybed, exposing the foundation. Bed skirts lie underneath the mattress to cover the bottom of the foundation to the floor, masking the open space.

Lay the bed skirt on the foundation. For precut bed skirts, simply lay the bed skirt on top of the foundation and adjust it to cover the space between the foundation and floor. The precut openings for the bed skirt allow you to navigate around posts and hardware for the daybed. For normal twin bed skirts without cuts, you will need to make some cuts.

Cut the bed skirt to fit. Begin in the top right corner of the bed skirt. Measure from the bottom of the bed skirt where it is exposed to the portion of the bed skirt designed to lie on the foundation; this is typically made of a white felt-like material. Mark this measurement with a fabric pen. Use the scissors to cut a straight line in the bed skirt to fit around daybed posts and hardware. Repeat this process for each corner of the bed skirt. Adjust the bed skirt as necessary around the posts and hardware, until it fits the area. Replace the mattress and make the bed as usual.
Tips
Some stores sell daybed skirts already designed to fit the specifications of most daybeds.
Photo Credits
Creatas/Creatas/Getty Images
More Articles