How to Use Dryer Sheets to Get Rid of Bees
Springt and summer are the favorite seasons of bees. Flowers emerge as buds and open into blooms to reveal sweet nectar for the bees' diet. Bees can be pests when family and friends are outside enjoying the nice weather at a barbeque or party.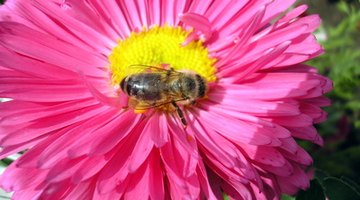 Things You Will Need
Dryer sheets
Scissors
String
Tip
Do not hang dryer sheets by a garden because the bees provide cross-pollination to allow flowers to bloom and vegetables to grow.
Warning
Before rubbing a dryer sheet on all exposed skin, try it on a test area of the body. The legs are the least susceptible to allergic reactions.
Homeowners or campers with allergies may want to carry the dryer sheet in a pocket instead of rubbing the scent on their body.
Take caution when using dryer sheets for repelling bees so that small children and pets do not eat or suck on the sheets. Dryer sheets may cause an adverse reaction.
Sugary drinks like soda, sweet tea, lemonade and beer attract bees with the sweet smells they emit. Sweet foods also attract bees to a gathering. Dryer sheets repel bees from the area of their placement for a bee-free environment. Many people are allergic to bee stings and should avoid bees at all costs.
Fold a dryer sheet so that it fits in a pocket. Wear the dryer sheet in a shirt, pants or shorts pocket while outside near bees. The smell of the dryer sheet repels the bees.

Rub a dryer sheet on all skin that clothes do not cover. Rub the sheets on arms and hands, legs, necks and faces to repel bees.

Place a dryer sheet on the table or on a blanket on the ground for a picnic. This will rid the picnic of bees that like to enter sugary drinks. This idea also works well at the beach.

Poke a hole in one corner of a dryer sheet with scissors. Insert a string and tie a knot to hold it to the dryer sheet. Hang the dryer sheet from rafters on a deck by tying the string around the rafter or on an arm of a sun umbrella. This process will eliminate bees from decks, porches and outside entertainment areas.

Tuck a dryer sheet into the back of outdoor chairs behind the cushions so that bees will not bother guests and family as they sit outside in the chairs. Hang dryer sheets with a string on chairs that do not have cushions.
References
Writer Bio
Mary Lougee has been writing for over 10 years. She holds a Bachelor's Degree with a major in Management and a double minor in accounting and computer science. She loves writing about careers for busy families as well as family oriented planning, meals and activities for all ages.
Photo Credits
Bee image by Tamas Majer from Fotolia.com
Bee image by Tamas Majer from Fotolia.com
More Articles