How High Should I Hang a Curtain Rod?
Hanging curtain rods high above the window frame adds height to the wall and works best with long panels or drapes.
High Curtain Rods
In rooms with high ceilings you may opt to hang the rod approximately 12 inches from the ceiling, while in rooms with lower ceilings you may choose to hang the rod where the ceiling and wall meet, to give the illusion of height, says AllThingsFrugal.com.
Low Curtain Rods
Hanging curtain rods lower--generally just a couple of inches above the window frame--is more traditional, and works best when the window frames and ceiling molding are close together. Lower curtain rods also help keep the proportions balanced in wider windows, according to HomeEnvy.com.
Bottom Line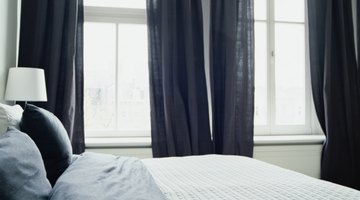 The size and height of your windows, as well as the height of the ceilings in the room, determine where the curtain rods should be hung. Marking the wall over the window at various heights will allow you to judge the best height for curtain rods before committing to one installation.
References
Writer Bio
A writer since 2000, Amanda Courtney worked as the news and copy editor for "The Lion's Roar," her collegiate newspaper, and as copy editor of the yearbook "Le Souvenir." She holds a Bachelor of General Studies with concentrations in English and mass communications from Southeastern Louisiana University.
Photo Credits
Melissa Kirk/Demand Media
Melissa Kirk/Demand Media
Melissa Kirk/Demand Media
Melissa Kirk/Demand Media
Ryan McVay/Photodisc/Getty Images
More Articles