How to Care for Faux Marble
Faux marble, or cultured marble, is a cast polymer product made of a mixture of plastic resins and crushed, powdered marble dust. The color and texture of the product go straight through from one side to the next, with the top sealed in a gel coat for a highly polished finish.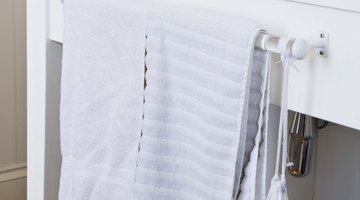 While faux marble is not porous the way natural marble is, it can stain and scratch if proper maintenance is not followed. However, the product can be restored once it is damaged, ensuring that it can sustain years of use.
Things You Will Need
Non-abrasive liquid bathroom cleaner
Several soft cloths
White vinegar
Denatured alcohol
Gel gloss
Liquid car polishing compound
Variable speed drill with wool buffing pads
Fine-grit sandpaper
Warning
Do not use boiling water or water heated to above 135 degrees F on your faux marble. This could cause it to warp from the heat.
Clean the faux marble on a regular basis with a liquid non-abrasive cleaner. Use a soft cloth to polish the product and remove everyday debris.

Remove buildup of minerals from hard water on the product by rubbing a mixture of white vinegar diluted in water. Start with a 4 to 1 ratio of water to vinegar and increase the amount of vinegar slowly until it removes the deposits without harming the top.

Remove hairspray buildup and other sticky films on the product by rubbing denatured alcohol onto the surface.

Apply a fresh coat of gel gloss with a soft cloth whenever the surface of the cultured marble appears dull. The gel gloss will clean the top as it restores its shine.

Buff out light scratches from the faux marble by rubbing car polishing compound into the surface by hand. Attach a wool buffing pad to a variable speed drill and buff the surface of the product until all scratches have been removed. Follow with a coat of gel gloss to restore its shine.

Remove deep scratches from the faux marble by pouring a small amount of water on them and rubbing vigorously with fine-grit wet-dry sandpaper. Rinse well, apply car polishing paste and buff well. Finish with a coat of gel gloss.
References
Writer Bio
Sarabeth Asaff has worked in and has written about the home improvement industry since 1995. She has written numerous articles on art, interior design and home improvements, specializing in kitchen and bathroom design. A member in good standing with the National Kitchen and Bath Association, Asaff has working knowledge of all areas of home design.
Photo Credits
Jupiterimages/Polka Dot/Getty Images
Jupiterimages/Polka Dot/Getty Images
More Articles