How to Remove Hair Dye From Wood
Not only does hair dye effortlessly color hair, but everything around it, too. Walls, floors, doors and bathtubs are not safe no matter how careful the application is. Regular soap and water does nothing to this stubborn stain. Fortunately if you know the tricks a hair dye stain on wood is nothing to panic about.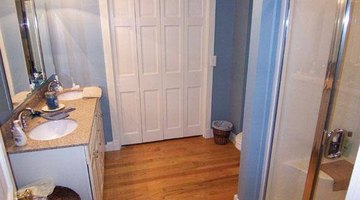 Things You Will Need
SOS pad
Vinegar
Baking soda
Clean white cloth
Mr. Clean Magic Eraser
Lemon juice
Hydrogen peroxide
Warning
Scrubbing with anything abrasive may scratch the floor. SOS pads are just abrasive enough so use caution if you use anything else.
Dampen an SOS pad with clean water and gently scrub the stain until it is gone.

Mix a paste of equal parts vinegar and baking soda. Using a soft clean white cloth, scrub the area until the stain is removed. Rinse the area with vinegar and repeat if necessary. Once the stain is completely gone, wipe the area with a clean, damp cloth and dry with a separate clean, dry cloth.

Scrub the area with a dampened Mr. Clean Magic Eraser until all of the dye is gone.

Mix equal parts white vinegar and lemon juice and scrub the stain with a clean cloth dipped in the solution until the stain is lifted.

Mix equal parts baking soda and hydrogen peroxide into a paste and scrub with a clean dry cloth until all of the dye is gone.
Writer Bio
Melynda Sorrels spent 10 years in the military working in different capacities of the medical field, including dental assisting, health services administration, decontamination and urgent medical care. Awarded the National Guardsman's Medal for Lifesaving efforts in 2002, Sorrels was also a nominee for a Red Cross Award and a certified EMT-B for four years.
Photo Credits
www.simplyadditions.com
www.simplyadditions.com
More Articles