How to Remove Fingernail Polish From Linoleum
Even the most experienced person can spill a drop or more of fingernail polish while they're applying it. When that happens, fingernail polish can be a tough liquid to remove, especially if it's already dried before you attempt to clean it.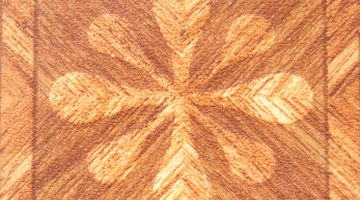 Fortunately, it's easier to remove from nonporous materials like linoleum because it can't soak in. Whether it's a fresh stain, or an old one, all you need to lift off fingernail polish from linoleum is a clean cloth, a few common household products, and some care.
Wipe up the polish spill right away if it's still in liquid form. Sometimes, even though it's already started to dry, you can remove some of it. Read and follow the warnings on the bottle of fingernail polish remover. Since it contains acetone, a smelly toxin, you should only use it in a well-ventilated area.

Place a small dab of fingernail polish remover on a cloth. Carefully wipe it across the fingernail polish, according to ocflooring.net. Add additional dabs of remover if necessary. Continue wiping the spill until you've removed all of the fingernail polish from the linoleum floor.

Place a dab of liquid hand soap on a corner of another clean cloth. Wipe over the spot on the linoleum where you removed the polish. This will remove any fingernail polish remover. Then, wet a clean corner of the cloth with water. Wipe the soap up; rinse that part of the cloth out, if need be. Finally, wipe the area dry.
Things You Will Need
Fingernail polish remover
Liquid hand soap
Clean cloths
Warning
Test the fingernail polish remover on an inconspicuous spot of linoleum if you're concerned that it may mar the floor.
Store fingernail polish remover out of the reach of children and pets.
References
Writer Bio
Kayar Sprang has been a professional freelance writer and researcher since 1999. She has had articles published by clients like Kraft Foods, "Woman's Day" magazine and Mom Junction. Sprang specializes in subjects she has expertise in, including gardening and home improvement. She lives on and maintains a multi-acre farm.
Photo Credits
Background from a piece of linoleum. image by Egor Tkachenko from Fotolia.com
Background from a piece of linoleum. image by Egor Tkachenko from Fotolia.com
More Articles