How to Troubleshoot the Shuttle Shift on a Case 580 Backhoe
Problems with the shuttle shift of the Case 580 backhoe can include having no forward or reverse available for moving the machine. You can troubleshoot a forward and reverse problem with the shuttle shift by changing the power shuttle fluid and cleaning the pickup screen. If the power shuttle fluid for the 580 is blocked, the machine will be unable to move on its own.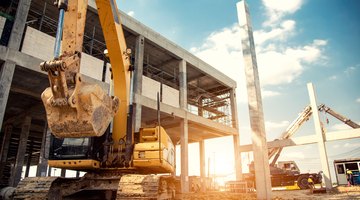 Change the Power Shuttle Fluid
Place the bucket under the pan case for the power shuttle. Unscrew the drain plug and let the fluid drain into the bucket.

Loosen and remove the bolts from the pan case with the socket wrench. Pull the pan off the case.

Remove the suction screen from the pan and examine it for wear and damage. Clean the suction screen using a stiff-bristle brush and grease solvent.

Verify that the oil pan is free of cracks that can cause a fluid leak. Wipe the oil pan clean with a cloth or rag. Brush the inside of the oil pan using the brush and grease solvent.

Reattach the pan to the case by tightening the bolts. Fill the reservoir for the shuttle fluid using Case Hy-Tran Ultra. Start the engine and test the power forward and reverse.
Clean the Pickup Screen
Turn off the engine and remove the key from the ignition.

Access the shuttle box for your Case 580 backhoe. Locate the pickup screen in the front left corner of the box.

Examine the screen to see if it is being blocked by debris. Clean away the debris to remove any obstructions from the screen.

Power on the backhoe and test the power forward and reverse using the shuttle shift.

Things You Will Need

Bucket
Socket wrench
Stiff bristle brush
Grease solvent
Cloth or rag
References
Writer Bio
Cameron Easey has over 15 years customer service experience, with eight of those years in the insurance industry. He has earned various designations from organizations like the Insurance Institute of America and LOMA. Easey earned his Bachelor of Arts degree in political science and history from Western Michigan University.
More Articles