_Learn how to make an inviting entryway console table in three simple steps using found materials such as a glass paned door or reclaimed board in this stunning before-and-after transformation_.
It's no secret Mary and I are fans of repurposing vintage finds into modern, functional furniture with a weathered vibe. There's something about giving a new life to a salvaged find that we just love.


We recently transformed an antique door we salvaged from the back alley into a beautiful new entryway console for our home, and today we're excited to share the three simple steps we took that could apply to most other salvaged finds you might be working with (think doors, windows, reclaimed boards or round wine-barrel tops).
Here's how it all went down — we lucked out by discovering an antique glass-paned door left out in our back alleyway for trash collection.
The door was pretty dirty and had chipping paint, but the glass was in perfect condition, so we knew there was some fantastic hidden potential for this piece. We brought it to our garage to clean up and create an entryway table from it.


After you have your medium for the tabletop (in our case, the glass-paned door), give it a good wipe-down for dust, overly crackled paint or debris so you can assess how much additional work you want to put into the updating. We opted to remove the door hardware and give the wood-painted surfaces a sanding with our palm sander.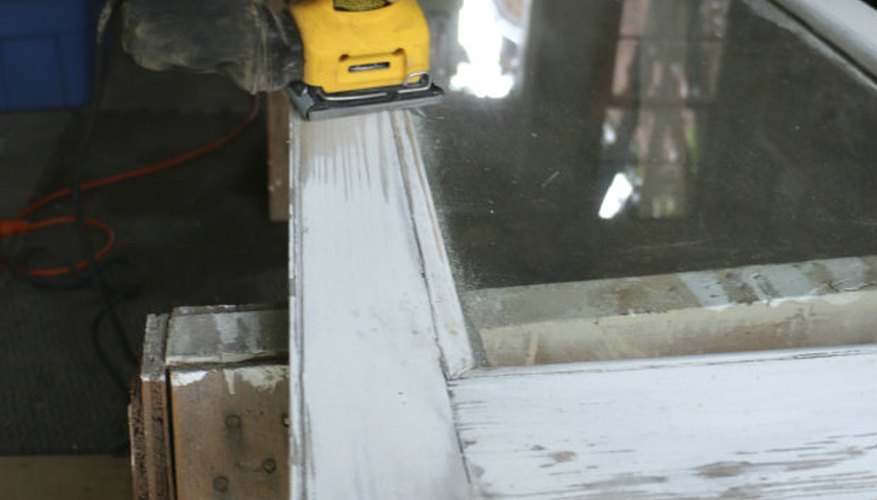 I wanted to sand deep enough to take off the top layers of paint and completely smooth out the exposed wood and corners. Doing so gave us a really nicely "weathered" look with areas of smoothed-out paint and exposed wood.


_**Note:** When working with older and salvaged painted pieces, be careful of lead paint, which is related to health hazards. If you are unsure if your piece contains lead paint, you can purchase a testing kit at your local hardware store or online_.


After becoming happy with the surface finish and doing another wiping of the glass, we were ready to install the legs. One our favorite ways to transform salvaged finds into hardworking furniture is through the use of hairpin legs.

You can attach them to almost any flat surface and pair them in even or odd configurations. They already come sized for standard table heights for most projects you might be working on, such as coffee tables, side tables, desks, or in our case, an entryway console.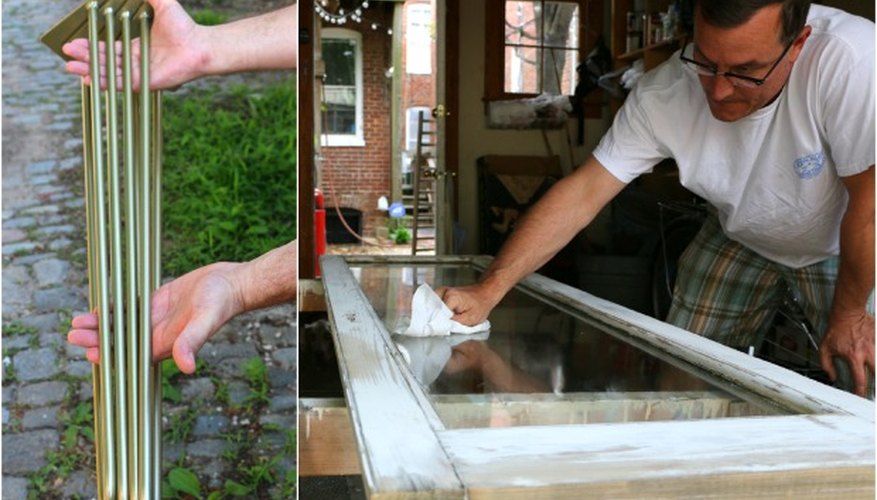 Hairpin legs are usually made of steel and can come in a raw finish. We've recently been enamored with the look of the brass style legs cropping up; however, brass versions are much pricier, and at the 28-inch height we needed for a proper console table, the material isn't strong enough to hold the weight of the table.

So we had them powder-coated in a brassy finish to give them the look of modern brass for a fraction of the price. There are many options for ordering hairpin legs — we ordered ours from [Hairpin Love](https://wwwetsycom/shop/hairpinlove), an Etsy shop specializing in the American fabrication of hairpin legs (the business also offers the powder-coating options from which we chose an "anodized brass" finish).


Arrange legs to match up with the edges or corners of your table surface. Carefully drill a pilot hole and attach with screws to secure each leg in place.

You'll want screws that are long enough to secure the legs into the wood without peeking through the other side — we used #10 x 3/4″ wood screws for this project.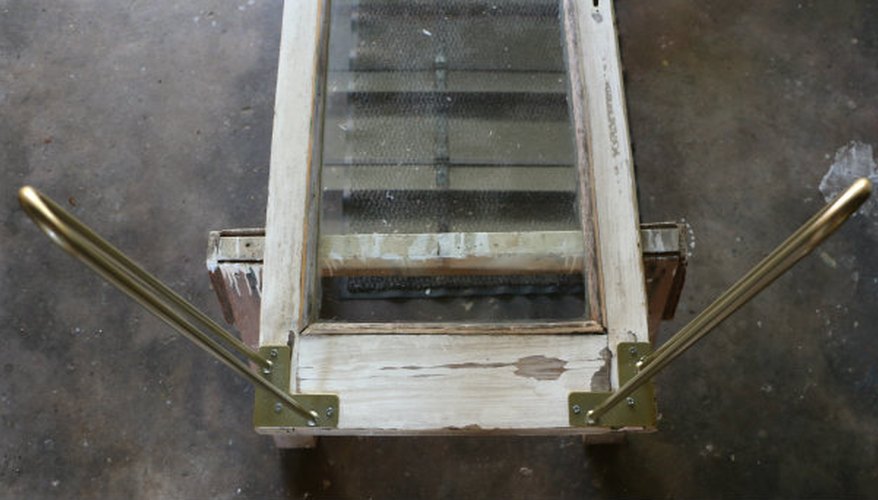 When each leg is secured, flip over your new table and marvel at your handiwork! We couldn't wait to bring our newest piece of furniture inside to get started arranging and decorating the entryway.
We dressed it out with matching lamps on either side, layered a family oil painting with a gold-framed mirror in the center and stacked vintage suitcases for storage and an antique wooden breadbox to hold shoes underneath. The warm, metallic tones in the lamps and mirror play off the brassy finish of the hairpin legs, while the weathered wood art frame ties in with the aged appeal of the table's surface.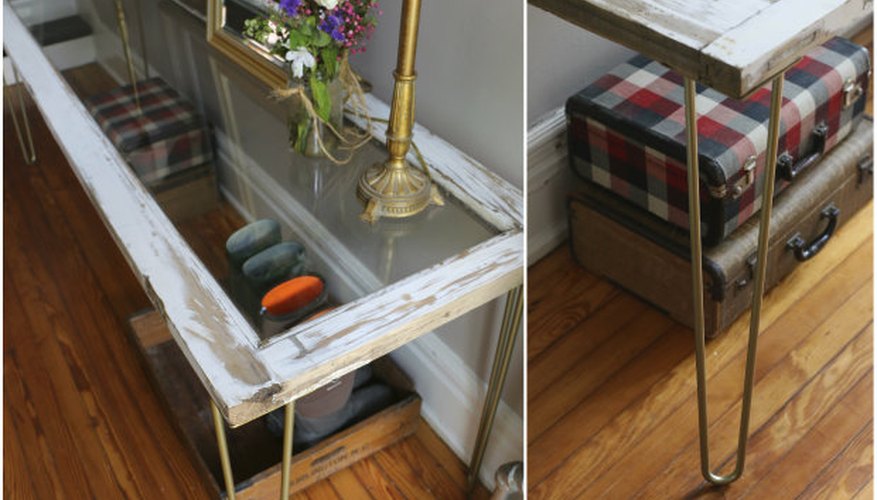 We just love how the table provides an inviting focal point upon entry to our home and a functional space for storage. It's also an exciting feeling to know we were able to make the table and keep the piece out of the landfill.

We hope we've helped show you how simple it can be to re-create in your own space!.
Looking for more ways to upcycle salvaged finds into furniture? Take a look at how we [transformed a tree stump slice into a side table](http://www17apartcom/2012/10/how-to-diy-stump-tablehtml), [refashioned an old army locker into a kitchen storage console](http://www17apartcom/2013/08/from-old-army-locker-to-kitchen-consolehtml) and [made a rolling TV stand from an antique trunk](http://www17apartcom/2013/03/before-after-from-throw-away-trunk-tohtml).
Cheers,
Mary & Tim.
_Keep up with Mary and Tim's adventures in DIY, home and gardening on their collaborative lifestyle blog, [17Apart](http://www17apartcom/). Find them on Instagram ([@17Apart](http://instagramcom/17apart)) and page through delicious recipes on Tim's food blog, [EAT](http://wwwtimvidraeatscom/)_.


Photo credits: _Mary & Tim Vidra_.