How to Determine the Right Drop Size on a Bed Skirt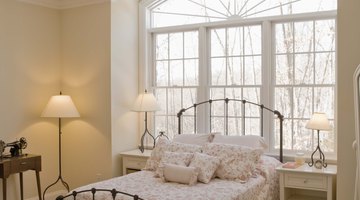 Measuring the vertical distance from the top of the box spring to the floor is key to helping you select the right bed-skirt drop length. For example, a box spring positioned on a low-profile frame and the same box spring placed atop a higher frame have different drop measurements. When the actual skirt dimensions are approximately 1 to 2 inches shorter than the drop measurement, the skirt hem clears the floor and provides enough coverage to give your bed a neater finish for classic decor.
Step 1
Measure the vertical distance between the top of the box spring to the floor to determine the drop length. To be safe, measure this drop around different sides of the box spring in case the box spring is not level with the floor.
Step 2
Record this drop length in inches. If the drop length is different around sides of the box spring, record the average length. Round up to the nearest inch.
Step 3
Subtract 1 to 2 inches from this recorded drop length to calculate the actual bed-skirt drop length. A bed skirt with a drop length of approximately 14 inches skims the floor surface and provides enough cover to hide items stored under the bed.
Tip
Measure the width of the box-spring to help you select the correct bed skirt. The finished width of the bed skirt can vary between companies.
Tip
Actual skirt dimensions can range from 14 inches to more than 18 inches, depending on the supplier and the type of bed.
Tip
Press the bed skirt before positioning it on the box spring. Removing the creases improves the hang and gives the skirt a more even look.
Tip
The shrinkage for bed skirt materials can vary. For example, a cotton skirt with a lace trim can shrink at different rates. A cooler wash cycle and a low drying cycle can help maintain the original dimensions.
Tip
If the materials are sheer, try placing a mattress cover over the box spring to hide any unwanted color or patterns on the sides of the box spring.
Warning
Keep the measuring tape away from small children and animals to prevent a strangulation or choking hazard.
Things You Will Need
Metal measuring tape
Pencil
Notepad