How to Make a Bar at Home Using Cabinets
Building a bar is quick and easy when using stock cabinetry for the base. These cabinets are widely available in many sizes, price ranges and finishes. Prefabricated cabinets from the local home improvement store offer many other features that would be difficult to replicate if building from scratch. Some of these features include gliding drawers, various widths and corner shelving units. Using stock cabinets allows you to mix and match pieces to fit your specific needs and space.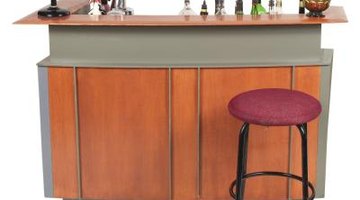 Step 1
Measure the space that you have set aside for the bar. Write the length and width of the area on a piece of paper.
Step 2
Sketch the outline of the completed bar onto the paper with measurements.
Step 3
Place the cabinets in the designed layout. Screw the cabinets into place by screwing through one cabinet into the other with the wood screws. Space the screws every six inches along the area where the cabinets meet.
Step 4
Measure the top area of the cabinets to cut the top of the bar. Transfer these measurements to a piece of plywood or MDF. Add one foot to the outside edge of the top for an overhang. This will give you room for people's knees and legs when sitting at the bar, or space to store stools. Cut the pieces with a circular saw; for corner cuts or cutouts, use a jigsaw.
Step 5
Place an L-bracket against an inside edge of the cabinet and attach it with a screw so the bottom of the "L" is upward and can attach to the underside of the top. Space the brackets evenly around the inside of the cabinets every four to six inches.
Step 6
Place the plywood on top of the cabinet base, and attach to the "L" brackets with screws. Line the edge up with the side of the cabinets that have doors and allow the excess to hang over the backside of the cabinets.
Step 7
Sand the top of the bar beginning with 100-grit sandpaper and increasing to 220-grit sandpaper.
Step 8
Wipe the top of the bar with a damp cloth to remove all dust and debris from sanding. Allow to dry.
Step 9
Paint or stain the top of the bar as desired.
Step 10
Seal the bar with three coats of clear polyurethane, allowing each coat to dry thoroughly before continuing with the next coat.
References
Resources
Tips
Add decorative molding around the edge of the bar to add interest and hide the unfinished edges of plywood. You can also sand the edges to make a rounded edge.
Writer Bio
Danielle Odom is a freelance writer and ghostwriter with more than 12 years experience. She is a certified medical transcriptionist and is working on a degree as a medical office assistant. As a writer she enjoys learning new things daily and is committed to entertaining and informing everyone that reads her work.
Photo Credits
Hemera Technologies/PhotoObjects.net/Getty Images
More Articles