How to Decorate in Shabby Chic With Dark Furniture
While shabby chic is usually associated with white furniture, you can add a shabby feel even if your furniture is dark. Painting or distressing your furniture will give it a timeworn look. Filling your room with repurposed items, muted pastels, florals, stripes and interesting textures will create a shabby chic look. The main idea is to have your home look comfortable, well loved and with a certain amount of wear and tear.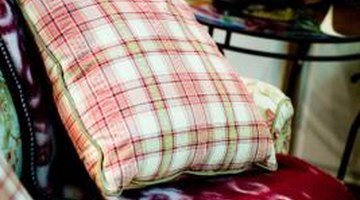 Step 1
Paint or distress dark wooden furniture. You can gently sand the edges and corners to give a worn, used look to the finish or paint a crackle medium over the dark paint and then add a coat of white or a pastel that will crackle over the dark finish.
Step 2
Cover your couch with a white or pastel slipcover that has a floral or striped pattern. Tuck the slipcover in around the couch cushions and add a few throw pillows with floral designs.
Step 3
Layer a rug with a feminine or cheerful pattern over your hard or carpeted floor.
Step 4
Use repurposed items to decorate your home. An old door can be used as a table top, shutters become a headboard and an antique trunk turns into a coffee table.
Step 5
Decorate your walls with cheerful pictures in light colored frames. Frames with carved or delicate details add to the shabby chic look.
Step 6
Mix patterns and fabrics, but stick with a basic unifying color scheme. You can have a blend of plaids, stripes and floral patterns in the same room, but harmonize them with a color scheme of mostly white, pink and green.
Step 7
Set out candles in interesting holders; natural decor such as seashells, branches or bird nests; plants in pastel pots; and old baskets.
Step 8
Light your room with real or faux antique lamps, chandeliers and wall sconces. Paint and distress lamps from the secondhand shop or add faux crystal tears to a ceiling fixture to create the look of a crystal chandelier.
References
Tips
Shabby chic is defined by the use of light colors, a mixture of feminine patterns and a casual, worn look to furnishings and accessories.
Writer Bio
Living in California, Michelle Ullman is a professional writer with particular expertise in home, garden and pet/nature topics. Her work is published on many websites. She loves crafts and has a deep interest in design and DIY projects.
Photo Credits
Jupiterimages/Photos.com/Getty Images
More Articles