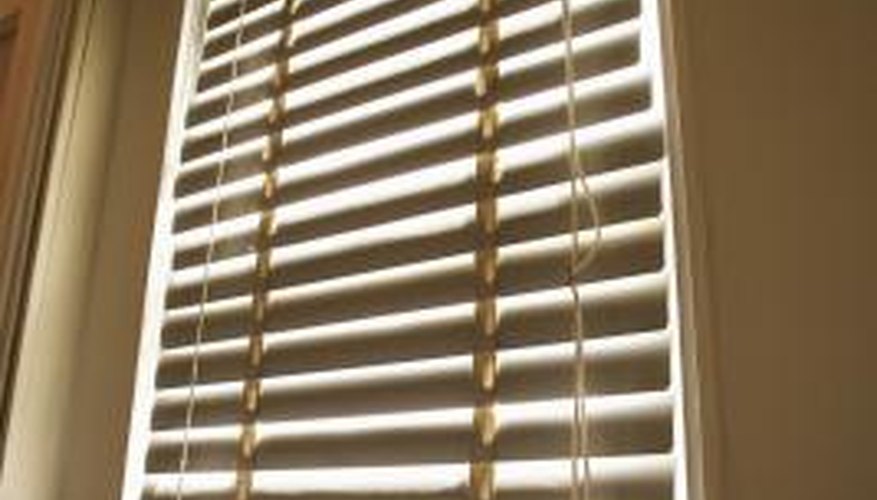 Cleaning the mini blinds will not erase these effects but will let you squeeze more life out of the blinds. Sun damage also makes the vinyl slats quite brittle, so use specific cleaning techniques for wet scrubbing to avoid breaking them.
Step 1
Vacuum the dust from the mini blind slats using the brush attachment. Use the wand to turn the slats closed, then gently vacuum in a side-to-side motion. When you finish one side, use the wand to turn the slats so they all face the other direction. Repeat the cleaning with the vacuum extension.
Step 2
Fill your bathtub with at least 4 inches of warm water. Pour in approximately 3 capfuls of the ammonia cleaner while the tub is filling up.
Step 3
Extend the blinds fully, and turn the wand so that the slats are slightly open. Unhook the wand. Remove the blinds from the mounted hangers on the window. Gently carry the blinds to the bathtub, and lower them into the water.
Step 4
Put on the rubber gloves to protect your hands. Wet the sponge and kneel beside the tub.
Step 5
Wipe down both sides of the mini blind slats, starting at the top slat and working your way to the bottom slat. Use gentle pressure so you don't snap the already weakened vinyl. Keep the slats as straight as you can and avoid bending them. Move the mini blinds around carefully as you clean to give yourself the best access to each slat.
Step 6
Drain the soapy water from the tub without removing the mini blinds. Refill the tub with clean water and swish it around to rinse the cleaner off the blinds. Repeat this step as necessary until all soapy residue is gone. If you have a handheld shower attachment, this may come in handy to rinse off the blinds.
Step 7
Set the large towels on the ground, or outside on the grass if the weather permits. Gently remove the blinds from the tub and lay them out, fully extended, on the large towels. Use the small towels to blot up as much of the moisture as you can. Let the blinds dry on the towels completely before reinstalling.
Things You Will Need

Vacuum with brush attachment
Ammonia cleaner
Sponge
Rubber cleaning gloves
4 large towels
2 small towels
Tip
An alternate method for drying the slats is to drape them carefully over a sturdy object, such as an outdoor clothesline, the railing of a patio or even a shower curtain rod. If you are doing this indoors, place towels underneath to protect your floor from moisture.