How to Calibrate a Mainstays Kitchen Scale
If you do not have the instruction manual to tell you how to calibrate a Mainstays kitchen scale, you can check for accuracy with a simple method.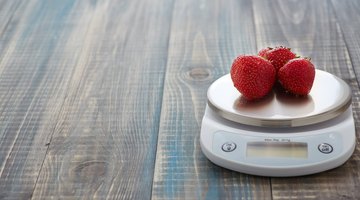 You may need to calibrate your Mainstays kitchen scale regularly to ensure its readings are correct. This scale comes with a separate container to hold ingredients, which doubles up as a cover for the scale when it is not in use. Calibration simply means checking the scale to give you an accurate reading when items are placed on it, throughout its entire range. Because the Mainstays kitchen scale has a separate container, the weight of the container must be included when calibrating. If your Mainstays kitchen scale has a calibration button, you can check it for accuracy using the following method.
Mainstays Kitchen Scale Accuracy

1. Clear your scale of all debris and set it to zero. Place a calibration weight in its container. If you don't have calibration weights, use pocket change. A new penny should weight 2.5 grams and a nickel should weight 5 grams.

2. Try a few different weights or coins to check how accurate your scale is. After each time you weigh, twist the base to return the scale to zero.

3. Check the manual that came with your Mainstays kitchen scale if it doesn't seem to be accurate. If there is a calibration feature, follow the instructions to recalibrate.

If the scale is new and inaccurate, return it to the store and ask for an exchange. If the scale is not new, write to the manufacturer and explain that it appears to be out of calibration. They may be able to fix it for you if you send it back to them.

Digital Kitchen Scale Calibration

Digital kitchen scales normally come pre-calibrated, but they should still be calibrated every few months to ensure the most accurate readings. If you do not know what button to push for calibration and do not have the manual at hand, the button is most likely to be called "Cal," "Mode" or "Function."

1. Hold down the correct button for a few seconds until the display shows that it is ready to calibrate.

2. Place the calibration weight on the scale and wait for the display to show a 0 or an "End" reading. This is the most common way of calibrating. Now you can use your scale normally.

If you want to improve the accuracy of your kitchen scale, reset the scale display to zero each time you use it. If your scale uses a food container, make sure you do this after the container is in place to ensure the subsequent display is only the weight of the ingredients and not the container itself.
References
Tips
Use a lightweight bowl to lessen the amount of calibration necessary.
Warnings
A large bowl will make calibration difficult as it will visually block the digital readout. Use a tall bowl instead of a wide one.
Writer Bio
Claire has been writing and editing for 18 years. She has written for many digital home publications, including Apartment Therapy, Good Housekeeping, Buzzfeed and Architectural Digest.
More Articles