How to Fix Slats in Louvered Doors
Louvered doors are common on doors through which ventilation is important. Louvers -- diagonal slats in the door -- are ideal in humid areas where moisture can get trapped, causing a closet or other space's contents to grow mildew. However, if the slats on a louvered door break, the door will be aesthetically unappealing and needs repair. You can do this yourself. The trickiest part is reaching working between the slats, particularly if the slats are stationary.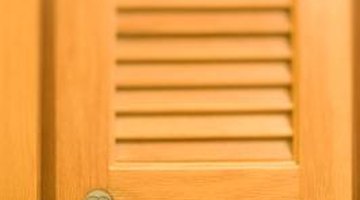 Step 1
Trim away any splinters or broken edges of the door slat.
Step 2
Clean the slat with trisodium phosphate on a rag. Work the cleaner between the slats using a ruler or other narrow object. Rinse the cleaner off the slat using a rag. Let it dry thoroughly before proceeding.
Step 3
Mix a two-part wood epoxy according to the package instructions. Many epoxies mix themselves when you depress their plunger. If this is the case, you can skip this step.
Step 4
Apply a thin line of epoxy along the broken part of the slat and press the edges together.
Step 5
Tape around the broken slat with painter's tape to hold the edges together as the epoxy dries. Feed the tape back and forth through the door as you wrap it around the slat.
Step 6
Allow the epoxy to cure for at least 12 hours, or according to package instructions, before removing the tape.
References
Tips
Use a slow-curing epoxy for the best results. Adhesives that dry quickly become brittle and don't last as long.
Choose a wood epoxy that is tinted to match the color of your wood.
Use epoxy that comes in a small tube so the nozzle fits between the slats.
Reinforce the slat's edges using the two-part epoxy. If the joint where the slat is connected to the door is broken, you can repair it in the same manner using the epoxy.
If the door isn't made from wood, use an epoxy designed for the material. For example, use fiberglass epoxy for fiberglass doors.
Use a pair of tweezers or needle-nose pliers if you can't reach between the slats.
Writer Bio
Shara JJ Cooper graduated with a bachelor's degree in journalism in 2000, and has worked professionally ever since. She has a passion for community journalism, but likes to mix it up by writing for a variety of publications. Cooper is the owner/editor of the Boundary Sentinel, a web-based newspaper.
Photo Credits
Jupiterimages/Photos.com/Getty Images
More Articles