How to Fix the Rubber Seal on a Front-Load Dryer
If your dryer seems to be taking longer to dry clothes, it could be because you've got a leak with the rubber seal on your front-load dryer. The seal keeps heat inside the dryer. When torn or broken, the heat inside escapes, making the dryer work harder. Fix a broken rubber seal on your front-load dryer by simply replacing the whole thing. It isn't expensive, and replacing the seal is much more efficient than trying to repair a broken one.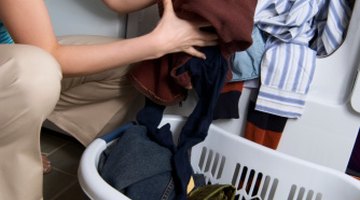 Step 1
Unplug the dryer from the electrical outlet.
Step 2
Open the loading door of the dryer.
Step 3
Pull off the seal from around the edge of the dryer door. If the seal doesn't come up in your hands, use a pair of pliers or needle-nose pliers to remove the seal.
Step 4
Apply rubbing alcohol to a rag. Wipe this around the door to remove any stuck-on adhesive. You can also use a plastic putty knife to remove any stubborn glue.
Step 5
Apply high heat glue around the door opening.
Step 6
Press the new door seal into position.
Step 7
Allow the seal time to dry according to the glue manufacturer's instructions before using the dryer.
References
Warnings
Don't attempt to cut away the seal with a utility knife or other sharp object since this can damage the dryer.
Writer Bio
Nathan McGinty started writing in 1995. He has a Bachelor of Science in communications from the University of Texas at Austin and a Master of Arts in international journalism from City University, London. He has worked in the technology industry for more than 20 years, in positions ranging from tech support to marketing.
Photo Credits
Jupiterimages/liquidlibrary/Getty Images
More Articles