How to Install a Wine Fridge Under a Granite Countertop
Wine refrigerators come either as freestanding models or built-in models -- some are capable of being either type. When installing as a built-in appliance, the granite countertop should not be affected as long as the existing cabinet is the correct size for the wine fridge since the weight of the granite is distributed evenly across the length of the slab. Refer to the manufacturer's cutout dimensions for the exact specifications for built-in units, taking care to note the distance the refrigerator should protrude from the cabinets.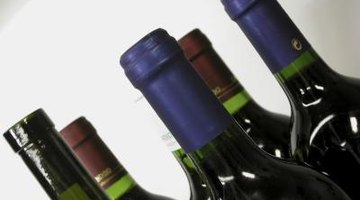 Step 1
Contact your local authority to inquire about required building permits before beginning any work on an existing cabinet.
Step 2
Measure your cabinets' inner dimensions and compare them with the recommended cutout dimensions for the wine chiller you purchased.
Step 3
Choose a cabinet that has the proper dimensions and an outlet on the rear wall within reach of the power cord. Without this, you will have to install an electrical outlet.
Step 4
Remove the cabinet door with a screwdriver or drill.
Step 5
Cut out the bottom of the cabinet and the outer top, front panel with a reciprocating saw if need be for sizing. You must do this if the fridge will not sit inside the cabinet properly.
Step 6
Reinforce the cabinet, if the structure is compromised, with cross braces along the sides and back.
Step 7
Ensure there is the minimum distance between the fridge door and the wall or side cabinet so that the door opens properly. The required distance varies by model.
Step 8
Level the product as needed. Though the appliances vary, most have adjustable legs that raise and lower the cooler. The wine fridge typically needs to be plumb with the cabinet.
Step 9
Plug in the fridge to a grounded, three-prong outlet in the rear. Never pull the cord to make it reach or use an extension cord.
Step 10
Slide the wine fridge into the cabinet.
References
Warnings
Never compromise the structure of the cabinet. If you don't have a cabinet base tall enough, use the fridge as a freestanding model (if you can), or find somewhere else to install it.
If an anti-tip bracket is included, make sure to follow the instructions to install it to reduce the risk of injury or damage to the unit.
Writer Bio
With a professional background in gardening, landscapes, pests and natural ecosystems, Jasey Kelly has been sharing her knowledge through writing since 2009 and has served as an expert writer in these fields. Kelly's background also includes childcare, and animal rescue and care.
Photo Credits
Ablestock.com/AbleStock.com/Getty Images
More Articles