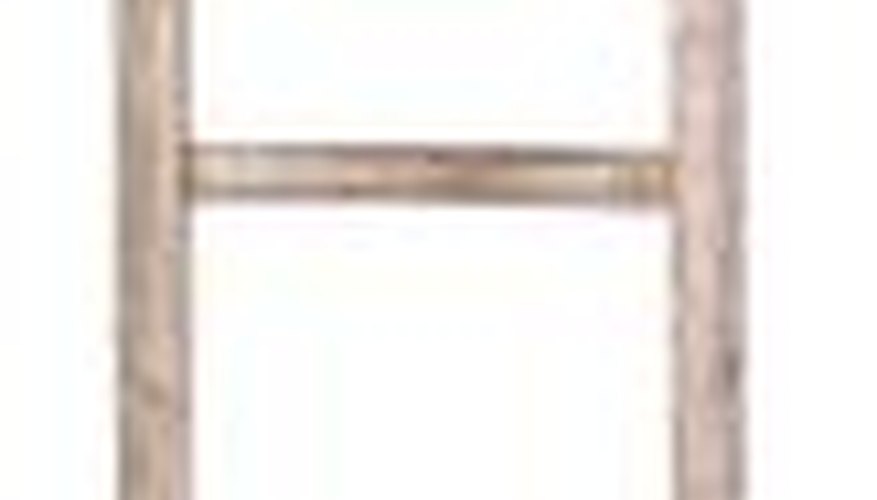 Whether you want to get on the roof to repair the shingles or clean out the gutters, you need a stable ladder that will not fall over or fall apart under your weight. You can build a ladder at home from simple wood and screws more cheaply than purchasing one at a store.
Step 1
Set two 12-foot-long, 2-by-4-inch hardwood boards next to each other length-wise on your workspace floor. These boards make up the outside rails of your ladder.
Step 2
Draw a line across the rails width-wise 8 inches in from one end. Then, draw another line every 15 inches. The last line will be 8 inches from the end of the rails.
Step 3
Connect the rails with nine 19-by-2-by-3-inch hardwood boards. These boards are the treads of your ladder. Place one tread on each set of lines. Use a cordless drill to drive two 2 1/2-inch deck screws through the rail into both ends of each tread. The screws should be 1 inch apart.
Step 4
Check that each tread is perfectly square, or at a 90-degree angle from the rails.
Step 5
Screw an L-bracket centered beneath both sides of each tread, securing the treads to the rails. Use 1/2-inch wood screws and the cordless drill to attach the L-bracket.
Step 6
Fit 4-inch-long, rubber ladder feet over the bottom of the rails to prevent the ladder from slipping.
Things You Will Need

2 hardwood boards, 12-foot-long, 2-by-4-inch
9 hardwood boards, 19-by-3-by-2-inch
Tape measure
Pencil
Wood glue
18 1/2-inch deck screws
Square
18 L-brackets
Cordless drill
1-inch wood screws
4-inch long, rubber ladder feet
Tips
Add a colorful no-slip strip to the front of each tread to personalize your ladder.

A one-story house is typically 8 feet tall. A 12-foot ladder is more than sufficient to reach the roof from the ground.