How to Build a Murphy Bed in a Window Seat
A window seat bed is one option if you have limited space in your home. For example, your home might lack a dedicated guest room or because you do not entertain often, you turn the guest room into a home office. A window seat bed makes use of an ordinary window seat, turning that space into storage for a bed. When you need the bed, you simply pull it out of the box.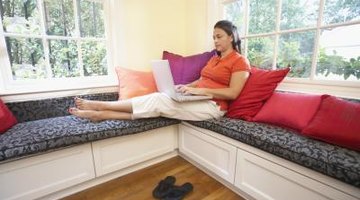 Step 1
Arrange two of your wood boards on a flat surface. Lay a hinge on top of the boards so that the hinge evenly sits on both boards. Set a second hinge on the boards, spacing each one evenly across the top. Tighten ½-inch wood screws through the holes in the hinges and into the wood.
Step 2
Turn the wood boards over and lay your last wood board at the bottom. Arrange two hinges across the top of the last board and the board above it. Sink ½-inch wood screws through each hinge. You should have a piece that measures 39 inches wide and 75 inches long and folds flat.
Step 3
Attach four folding legs to the wood boards. Place one leg at each corner of the boards. The legs unfold, which gives the bed its height, but fold flat when storing the bed inside the window seat. The legs feature flat metal plates that sit flat on the wood. Sink wood screws through the plates and into the wood.
Step 4
Place a twin futon mattress on top of the wood boards, which makes your twin bed. Fold the wood boards around the mattress. A futon mattress is thinner and more lightweight than a traditional mattress, which lets it fold nearly flat when pressed between the boards.
Step 5
Set the mattress form you created in the last step inside the window seat. Lift the top off the window seat and place your mattress inside. When you need to use the bed, lift the mattress out and unfold the legs. When you need to store the bed, simply fold the legs under and place back in the seat.
Tips
You can make the bed any size you want, but you must have the space available. A full-size bed, for example, measures 54 inches wide. Compare the width of your window seat against the width of the mattress size that you want before creating your mattress form.
Writer Bio
Jennifer Eblin has been a full-time freelance writer since 2006. Her work has appeared on several websites, including Tool Box Tales and Zonder. Eblin received a master's degree in historic preservation from the Savannah College of Art and Design.
Photo Credits
Jack Hollingsworth/Photodisc/Getty Images
More Articles