Itching to change up your place? It might be as simple as reorganizing your closet, purging your home of unused or unwanted items or maybe adding a few new elements to your [living room](http://wwwehowcom/how_7855672_coordinate-colors-living-roomhtml). But rather than browsing and dropping dough on new furniture pieces, why not take advantage of the [rustic trend](http://wwwehowcom/how_12342913_diys-modern-rustic-look-budgethtml) and try creating a few new pieces by yourself? Not only are these [DIY furniture items](http://wwwehowcom/how_7853040_diy-own-living-room-furniturehtml) great money-savers, they're also guaranteed to add character to any space.


---
1. Rustic Side Table
Whether you call a forested area home or you just love bringing the outdoors inside, these [end tables](http://wwwehowcom/how_7703839_make-rustic-end-tableshtml) are a great addition to any seating area. Plus, the hairpin legs balance the boldly rustic tabletop with a mid-century modern touch.


---
2. Entryway Table
We all hate the clutter that comes through the door every day. Rather than letting all those odds and ends accumulate, why not turn a beautiful, previously loved [door into an entryway table](http://wwwehowcom/ehow-home/blog/before-and-after-transforming-an-old-door-into-a-beautiful-entry-table/)? Upcycling and organizing, all in one.


---
3. Wood Shelves
Give all your favorite quirky items and beloved books a cozy home by making [these wood shelves](http://wwwehowcom/how_4710558_build-wood-shelveshtml#close). So much more unique than its IKEA counterpart, don't you think?.


---
4. Wood Slab Coffee Table
The raw edge trend isn't going anywhere, anytime soon. Of course, it takes a bit of craftsmanship to create such beautiful pieces, which usually means you'll pay a hefty price to bring one home from the furniture store.

Unless, of course, you DIY your [own wood slab coffee table](http://wwwehowcom/how_7719339_make-wood-slab-coffee-tablehtml#close)!.
---
5. Crate Side Table
If you love reading before bed, but have no where to store your favorite nighttime novels, this [nightstand](http://wwwehowcom/how_2312762_build-night-standhtml) will be your saving grace. Not only does the wood bring a cozy vibe to your bedroom, it also mixes surprisingly well with modern pieces.


---
6. Industrial Bench Seat
Another great addition to a mudroom or entryway? This welcoming [industrial bench seat](http://wwwehowcom/how_4778852_build-bench-seathtml). Never bend or fall over while tying your shoes again.


---
7. Storage Trunk Bench and Coffee Table
Finished your spring cleaning, but not sure where to stash those last few items? Try storing them in a [trunk bench](http://wwwehowcom/ehow-home/blog/diy-storage-trunk-bench-and-coffee-table/), which doubles as a comfy seat and a soft coffee table.
---
8. Space-Saving Collapsible Side Table
Rustic furniture pieces aren't just for large spaces that can spatially afford them. If you're living in a smaller home or apartment, this [collapsible side table](http://wwwehowcom/how_12342924_diy-spacesaving-collapsible-side-tablehtml) is a noncommittal and simple way to bring a homey element to your space.


---
9. Coffee Table with Hairpin Legs
Why shell out big bucks for a handmade table or buy the imitation, when you can create this rustic [coffee table](http://wwwehowcom/ehow-home/blog/diy-coffee-table-with-hairpin-legs/) with your own two hands? Your coffee Instagram pics will never be the same again.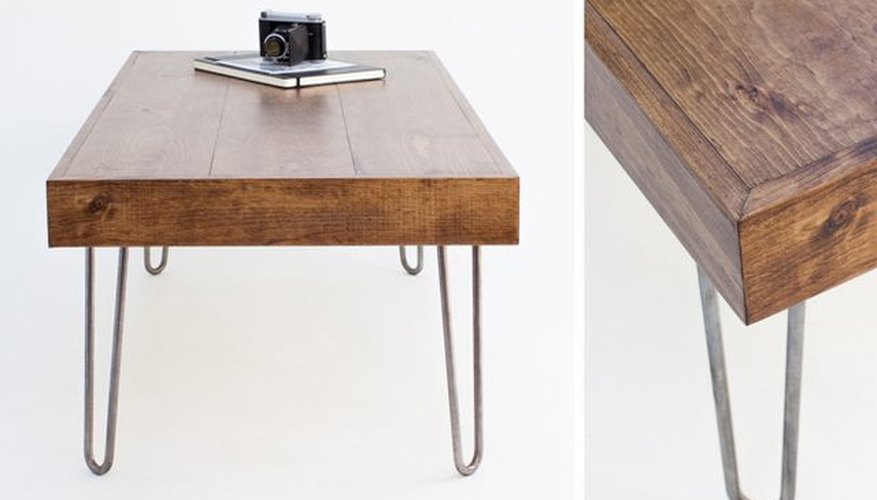 ---
10. Freestanding Industrial Pipe Bookcase
If you're a major book collector, one bookshelf isn't going to cut it. We get it.

But don't give up on the rustic loveliness yet! You can still go big at home with these [freestanding industrial pipe bookcases](http://wwwehowcom/ehow-home/blog/how-to-make-a-freestanding-industrial-pipe-bookcase/).
---
11. Hairpin Leg Side Table Planter
Rather than let your plants take up space on your tabletops, make your green friends a focal point of any room by creating a [side table planter](http://wwwehowcom/ehow-home/blog/make-your-own-planter-side-table-using-hairpin-legs-and-wood/).
---
12. Industrial Chic Garment Rack
We could all use more closet space, right? Well, if your built-ins are falling short, it's time to make this [loft-style garment rack](http://wwwehowcom/ehow-home/blog/loft-style-diy-industrial-chic-garment-rack/). Though it's technically an industrial, rustic style, this piece definitely has Fashion Week vibes.


---
13. Geometric Log Side Table
Patio weather is just around the corner, which means you'll soon be updating worn-out furniture pieces or adding new ones to your outdoor space. If you're specifically on the hunt for a few good side tables, we suggest this seriously sturdy [side table DIY](http://wwwehowcom/how_12340608_make-geometric-log-side-table-patiohtml).

The major bonus to this piece? Wear and tear actually makes it look better.
---
14. Murphy Bar
Need a space to catch up with friends while enjoying the weather and maybe a little BBQ? Try building this [rustic murphy bar](http://wwwehowcom/how_12340780_build-murphy-barhtml).
Things You Will Need

Pressure treated lumber in the following sizes: 8 foot long 2 inches by 8 inches; 12 foot length 2 inches by 4 inches; 12 foot length 1 inch by 8 inches
2 inch and 2 1/2 inch galvanized screws
Jigsaw
Sandpaper
Paint (exterior)
Paint brush