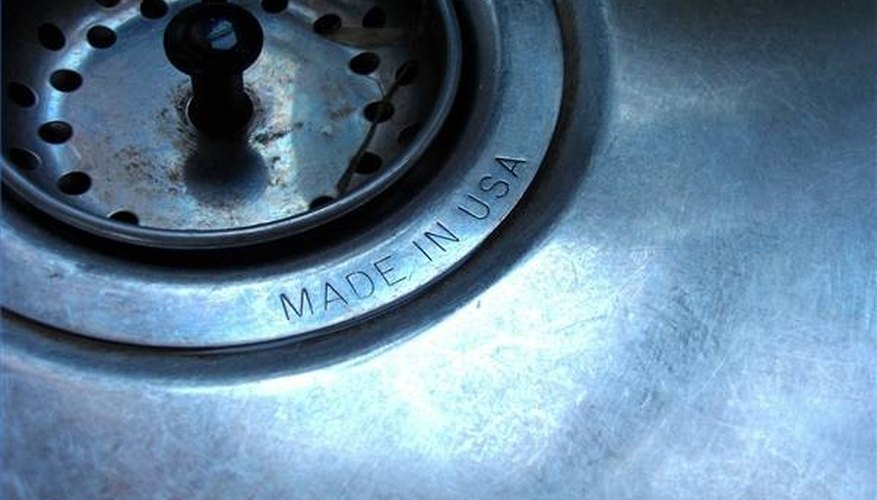 Installing the strainer is perhaps the simplest part of installing a new kitchen sink. Though you will want an assistant when tightening the nut that holds the strainer firmly in place, the rest of the project is a one-person job.
Step 1
Spray the sink basin with cleaning solution and wipe it clean with paper towels. Make sure the area around the hole in the bottom of the basin is completely clean and dry.
Step 2
Scoop out a small handful of plumber's putty. Roll the putty between your hands to shape it into a rope about 1/4 inch in diameter. Form the rope into a ring that is the same size as the recess around the hole in the sink. Line up the edges of the ring with the rim of the hole and press down gently so that the ring is evenly applied to the rim.
Step 3
Set the metal strainer basket in the hole and press gently around the edges to seal it to the plumber's putty.
Step 4
Stack the rubber gasket on top of the wide, bowl-shaped washer and slide the washer up the threaded stem of the strainer basket until the rubber gasket is flush with the bottom of the sink. Twist the large locking nut into place below the washer until it's holding the gasket in place. If your new strainer basket came with a circular cardboard insert, put it between the rubber gasket and the the locking nut so the locknut doesn't catch on the gasket.
Step 5
Have a partner lean over the sink and firmly grip the strainer basket with a pair of needle-nose pliers. Use a pair of tongue-and-groove pliers to tighten the locking nut. Wipe any putty that oozes out of the joint, at both the top and bottom of the strainer.
Things You Will Need

Cleaning solution
Paper towels
Plumber's putty
Sink strainer set
Needle-nose pliers
Tongue-and-groove pliers