How to Install a Pocket Door Frame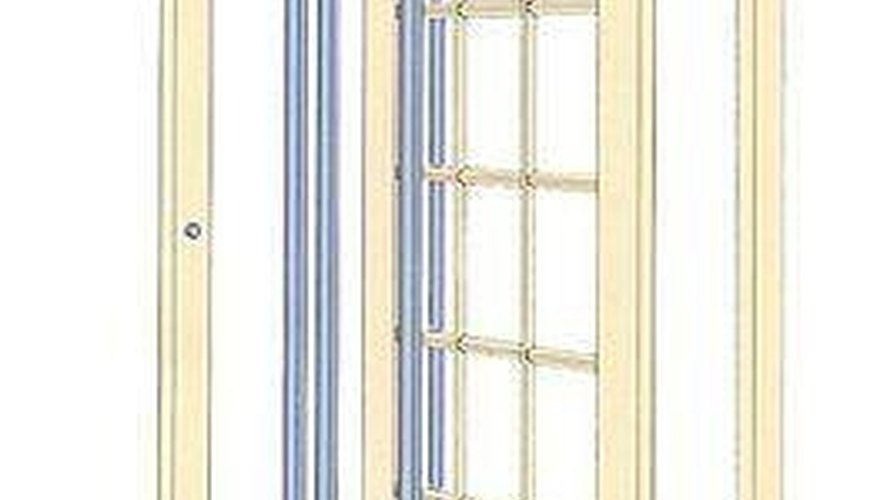 Pocket doors can be purchased in many different sizes: 24 inches, 28 inches, 30 inches, 32 inches and 36 inches. Buy a door slab size that the frame is built to accommodate. Pocket door frames come with the special hardware you will need to install it yourself. The rest is listed in "Things You'll Need.
Nail a header into the box frame and square with the door jamb.
Place the pocket door frame into the rough opening, and add shims until the jambs are perfectly vertical and the track is absolutely level. If the track is not level, the door will not stay in the correct position. Nail the frame into the opening.
Install drywall over the pocket door frame. Then remove the spacer brackets from the pocket door frame.
Finish the door on all four edges and both faces to prevent door warpage. Install the door bumper 40 inches from the bottom of the door.
Center the hanger plates on the top of the door 2 inches from the edges of the door. Insert the hanger pin into the door plates and lock all of it into position with the provided clip.
Fasten the split header with flathead screws, and then fasten the door guides to the bottom of the door (all provided) and adjust as needed for easy operation.
Things You Will Need

Pocket door frame Door slab Pocket door handle Nails Hammer Level Drywall Drywall screws Wood shims
Tip
Pocket doors come with most of the hardware you will need. You may need to pick up a set of handle hardware to go with the door.