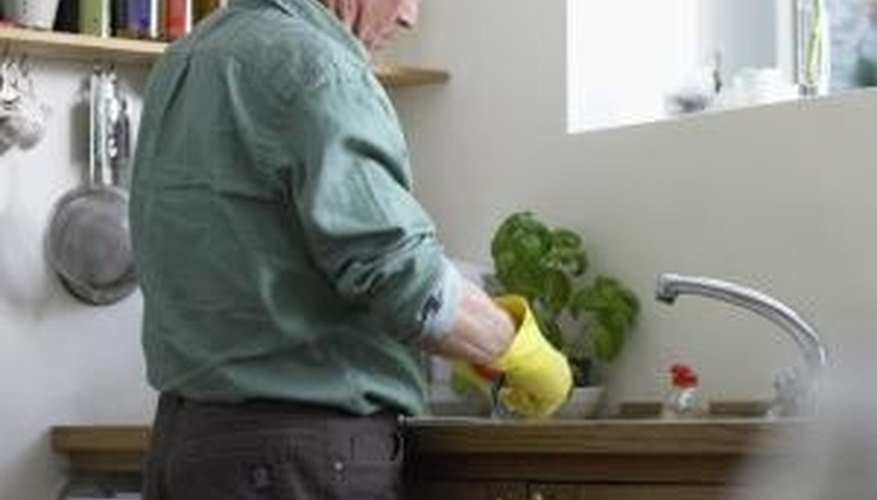 Even the most experienced cooks lose track of time or get distracted only to discover a burned pan. Although some pans are more difficult to clean than others, by following a few simple steps, you can remove the burned or stuck food.
Scrape excess food from the pan with a wooden spoon or plastic spatula. Do not scratch the coating on the pan.
Fill a stuck on pan with cold water and allow to soak for 15 to 20 minutes. Cold water loosens the stuck-on food and makes the pan easier to clean.
Pour off the water and scrub the pan with a scrubbie or sponge designed for the type of pan. Teflon, silverstone and other non-stick surfaces require delicate care. Stainless steel can be cleaned with a metal scrubber.
Sprinkle 1/4 to 1/2 cup baking soda in the bottom of pans that resist your efforts. Add water to cover the soiled area. Place on medium heat and bring to a boil. Reduce the heat and simmer for 5 to 10 minutes. The baking soda and water mixture typically lifts stuck-on food from the pan.
Wash in warm soapy water and rinse with hot water.
Things You Will Need

Wooden spoon
Baking soda
Dish detergent
White vinegar
Salt
Tips
Make a paste of 1/2 cup dish washing detergent, 2/3 cup of baking soda and 2 tablespoons of vinegar and store near the kitchen sink. Use the paste to scrub baked or burned on residue from pots and pans. Rinse to remove residue.

Soak stuck on pans overnight with a solution of 1/4 cup salt and cold water.