How to Choose Interior Paint Colors for Your House
Painting the walls is on of the the quickest and most inexpensive way to transform the interior of your home. Considering the wall color sets the mood and tone for the entire room, it's a critical decorating decision with the potential for disastrous results. Avoid disaster by educating yourself on basic color and design principles before you head to the paint mixing counter.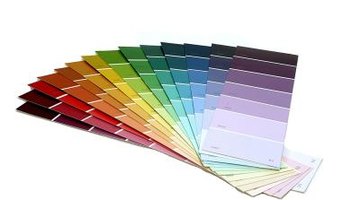 Step 1
Discover the undertones in the room. Flooring, window coverings, and upholstered furniture all have undertones (colors that peek through the predominant color) that can alter the color of the wall paint. Compare paint chips with fabric swatches and tile samples side-by-side to discover any possibilities of clashing colors.
Step 2
Create continuity by using only one or two colors throughout the house. Add personality by injecting accent colors in upholstered furniture, pillows, rugs, drapes, artwork, or decorative items to avoid a monochromatic theme.
Step 3
Examine the space carefully. Consider choosing bright, warm colors for large spaces to create a more intimate atmosphere and cool colors in small, cramped rooms to push the walls back visually and open up the space.
Step 4
Highlight architectural elements with a different shade of the wall color paint. Mantles, built-in bookcases, chair rail or other architectural elements painted a shade lighter or darker add interest and draw the eye to subtle design details.
Step 5
Consider your personal taste and go with your gut. Coat the walls in colors that appeal to you to create a personally pleasing aesthetic. Test the paint on a small area in the room before beginning the project to ensure the lighting does not alter the true paint color.
References
Resources
Tips
Bold colors can be trendy but can quickly make a room look outdated.
Take samples of fabric or artwork when choosing paint colors.
Unify a choppy layout by using only one color throughout the house.
Solids and simple patterns reduce visual weight in a room while bold patterns add weight.
Fluorescent lighting brings out green and blue in paint while incandescent light brings out red and orange.
Use a color wheel to determine complementary colors -- colors opposite each other on the color whee l-- to use throughout a room. Analogous colors--any three colors side-by-side on the color wheel -- work well together also.
Writer Bio
A mother of three and graduate of the University of Texas, Mary Evett is the online pregnancy expert who contributes to AXS.com and CBS Local. Her passion for DIY projects is showcased monthly on the craft blog, My Crafty Spot. She is the author of the blog, Just Mom Matters.
Photo Credits
Ablestock.com/AbleStock.com/Getty Images
More Articles