How to Design a Desk Out of Milk Crates
No home office is complete without a desk and yet this important piece of furniture is often expensive, especially if your needs dictate a rather large work surface. Instead of paying top dollar for a desk at your local furniture or warehouse store, consider making one out of milk crates and an old door that you probably already have lying around the house. For next to nothing, you will have a functional work space that will have you down to business in no time flat.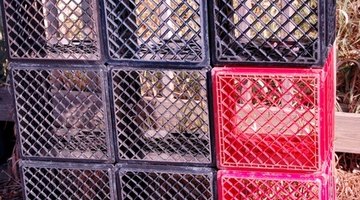 Stack one milk crate on top of another and secure them tightly using heavy-duty plastic cable ties. Repeat this process with the other six plastic milk crates until you have four sets of paired milk crates.

Set the household door that will be used as your work surface on the floor in the area where you want your desk to sit. Remove all hardware and thoroughly clean the door before using.

Lift one end of the door up and slide two pairs of conjoined milk crates underneath. Repeat this process on the other end so that the milk crates are evenly supporting the door, creating a basic desk.

Set two bricks on top of the door on either end of your work surface. The bricks will weigh down the door and make it less likely to slide around as you are working. If your desk will be supporting a computer or other heavy objects the bricks may not be necessary.
References
Resources
Tips
Use coordinating crates to create the base of your desk. If you do not have coordinating crates, consider spray painting your crates and the door the same color so that they coordinate with your decor.
The crates can be used for storage in your desk or left empty.
Writer Bio
Anne Kinsey is a writer, business woman, minister and coach who is passionate about inspiring others to walk out their career dreams and believe in possibilities. She resides in rural North Carolina with her husband and three children, where they enjoy the great outdoors and serve at-risk youth together.
Photo Credits
red and black crates image by robert mobley from Fotolia.com
More Articles