How to Light a Chef Gas Stove
The Chef gas stove is classic kitchen appliance that has been on the market since the 1920s. The surface burners on this gas range have standing pilots which you must light in order for the stove to work. The pilot lights need to be lit only the first time you use your stove, but they may need to be re-lit after you run out of gas or need to do repairs on the stove.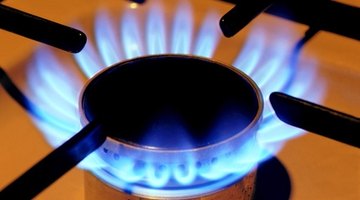 Check if the gas line to the range is connected and the valve is in the "open" position. Make sure the control knobs on the surface are in the "off" position.

Lift the grates and lay them on the side in a safe place. Wrap a flathead screwdriver with a soft, thin cloth. This is so you don't scratch the side of your stove top. Insert the wrapped screwdriver into the edge where the cook top meets the body of the range and pry the cook top off. Lift the cook top carefully and place it on a nearby table or on a clean floor.

Look for the ports of the pilot lights in the center of the cooking area of the stove top. The pilot lights look like twin circles in the center of the area where each pair of metal grates sits. Strike a match away from you and touch it to the pilot light. The blue gas flame should shoot up. Light each pilot light the same way.

Put the cook top back on top of the range. Place your hands on either side of the cook top and push it into place. Place the grates back into their positions.
References
Tips
Use a toothpick to clean and remove food and debris from gas burner holes.
Warnings
Keep children and pets away from gas appliances.
Writer Bio
Aryeh Raphael has a degree in journalism and has worked with Fortune 1000 companies helping them to increase their online brand exposure through innovative website design, content creation, advertising and marketing. Additionally, Raphael is a writer for a slew of high-traffic blogs, including eHow and Tech Crunch.
Photo Credits
More Articles