How to Troubleshoot an Amana Radarange Microwave
Amana Radarange microwave ovens offer a number of features, like sensor cooking, melt cycles and an autodefrost option. These microwaves are powerful in all sizes. Amana Radarange microwaves are simple to keep clean, and they have easy-to-read display panels. Even though these microwaves are great pieces of machinery, they can malfunction. However, you can check for and fix the problem yourself in a number of simple ways.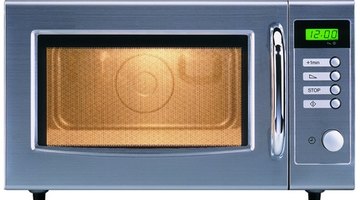 Push the power cord all the way into the outlet in case it became loose and is causing the problem. If the microwave still isn't working, check for a blown circuit fuse, and repair it.

Check that the controls on the microwave are programmed correctly according to the owner's manual. If they aren't, program them.

Close the microwave door firmly. Touch the cook function on the Start Pad, not the timer. Check if the microwave works. If not, continue to step 4.

Program the Power Level correctly. If it's not programmed properly, the microwave will cook the food too quickly or too slowly.

Use only microwave safe dishes. Make sure food is evenly shaped and defrosted before placing it in the Amana Radarange microwave.
References
Writer Bio
Based in New Jersey, Michelle Raphael has been writing computer and technology articles since 1997. Her work has appeared in "Mac World" magazine and "PC Connections" magazine. Raphael received the George M. Lilly Literary Award in 2000. She holds a Bachelor of Arts in political science from California State University.
Photo Credits
More Articles