Instructions for a Surefit Recliner Slipcover
A slipcover is an inexpensive option to buying new furniture or paying for professional reupholstering. Be patient when putting on your Surefit slipcover for the first time. If you're not experienced with slipcovers the process can seem a little confusing at first; however, by following the directions in sequence you'll finish the job quickly and begin enjoying your "new" recliner.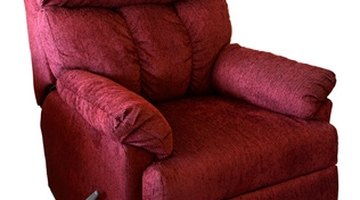 Identify the sections of the one-piece slipcover and its labels. Look for "front seat," "center front," "left arm," "right arm," and "top to back."

Adjust the chair's backrest to a slight recline and pull the foot rest up.

Find the left and right arm labels. Fit them onto the corresponding arms and tuck the excess fabric into the crevice between the seat and arms. Pull down on the side fabric and stretch the slipcover under the bottom of the chair.

Find the "top back" label. Locate the center of the section and place it evenly on the top back of the recliner. Stand behind the chair and pull the cover down. Check for an even fit as you work. Tuck the excess material into the crevice at the back of the seat.

Pull and stretch the bottom of the "top to back" section along the back of the recliner until it fits under the chair. Secure this section by tying the elastic loops that are connected to the slipcover.

Locate the "front" label and slide that section onto the footrest. Continue pulling until the footrest is covered and secure the excess material into the crevice between the back of the chair and the arms.

Check all the sections for a secure fit. Stretch and tuck material as needed for a smooth, tight cover. When satisfied with the fit, attach the elastic loops to the metal supports on the bottom of your recliner.
References
Writer Bio
Jo Burns has been a freelance writer since 1980. She specializes in articles relating to home and garden, alternative health care, travel, writing and crafting. In 2007, Burns received an M.F.A. in creative writing.
Photo Credits
rocker recliner chair image by James Phelps from Fotolia.com
More Articles