How to: Replace a Belt on the Bissell ProHeat
The Bissell ProHeat is a carpet cleaner that uses heated water and cleaning solution to steam-clean carpet surfaces. The brush roller belt on the cleaner can become worn out after many uses. The belt should be replaced if it becomes cracked, broken or worn. It is important to follow the correct procedure when replacing the belt to ensure that the ProHeat cleaner will function properly when finished.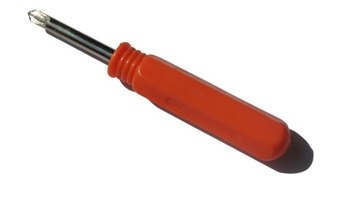 Step 1
Turn the machine off. Unplug the power cord from the wall outlet.
Step 2
Remove the water tank. Remove the cleaning formula tank. Set both tanks aside.
Step 3
Remove the screw near the front of the unit, under where the water tank was sitting, using the Phillips screwdriver. This screw holds the front nozzle in place. Remove the front nozzle.
Step 4
Turn the machine on its side, with the cord side down.
Step 5
Unscrew the two black screws holding the clear end cap in place, using the Phillips screwdriver. Remove the clear end cap. Remove the single silver screw under the end cap.
Step 6
Lift up the pivot arm to remove it. Remove the brush belt.
Step 7
Install the new brush belt over the rollers. Replace the pivot arm. Replace the silver screw to hold the pivot arm in place.
Step 8
Replace the clear end cap. Replace the two black screws to hold the end cap in place.
Step 9
Stand the ProHeat unit up. Replace the front nozzle. Replace the screw that holds the front nozzle on.
References
"Bissell ProHeat User's Guide;" Bissell Homecare, Inc.; 2009
Writer Bio
David Clair began writing for websites in 2001, creating online marketing content for business owners. He has written for Internet companies including eBay and creates training materials for an online education company. Clair is studying technical writing and pursuing an Associate of Arts in information technology from the University of Phoenix.
Photo Credits
More Articles