How Do I Level a Ceiling Fan?
A ceiling fan may become unstable and wobble, make squeaking or groaning noises and become unlevel after several years of use. The screws can work themselves loose in a ceiling fan due to the motion of constant turning and vibration of the motor. In addition, high humidity can cause ceiling fan blades to warp or turn inconsistently. No matter what the cause, you can easily fix it.
Tighten all Screws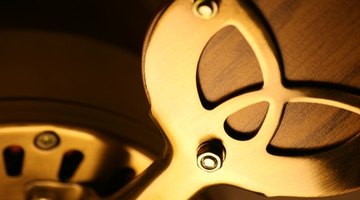 Turn the ceiling fan off. Use a screwdriver to tighten the screws that connect the fan to the ceiling. Turn the screwdriver clockwise to tighten.

Tighten the two screws that mount the blades to the ceiling fan motor housing. Turn the screws on each blade clockwise to tighten.

Tighten the three screws that mount the fan blades to the blade assembly. Turn each of the three screws clockwise to tighten.
Fan-Balancing Kit
Turn the ceiling fan on high and observe the blades for wobbles.

Turn the ceiling fan off and wait for it to stop turning. Clip a weight from the fan-balancing kit near the middle of one fan blade.

Turn the fan on high to see whether the fan rotates evenly and levelly. Turn the fan off.

Move the weight from blade to blade until the fan balances and the blades are level.

Peel the backing off a fan weight and stick it on top of the fan blade that the clip-on weight balanced.
References
Tips
Tightening all screws on a ceiling fan may level the fan, remove squeaks and noises and allow the fan blades to turn level.
Turning a ceiling fan on high usually produces the most wobble to help you determine how to balance the blades to level the fan.
Fan-balancing kits are available at hardware stores, ceiling fan stores and home improvement centers.
Warnings
Wait for a ceiling fan to stop rotating entirely before placing hands near the blades for adjustments. The blades are not sharp on the edges but still can cause bruises to hands and fingers.
Writer Bio
Mary Lougee has been writing for over 10 years. She holds a Bachelor's Degree with a major in Management and a double minor in accounting and computer science. She loves writing about careers for busy families as well as family oriented planning, meals and activities for all ages.
Photo Credits
Close-up of ceiling fan image by jeanniner9 from Fotolia.com
More Articles