How to Remove & Replace an Electric Countertop Range
Updating your electrical countertop range can be a great way to improve the quality, look and efficiency of your kitchen without a significant amount of time or investment. Replacing the range is not complicated, particularly if your new unit is similar to your old one. All electrical cooktops run off of a single phase three or four wire cable, so extensive wiring is not necessary for a replacement job. However, before replacing the range, confirm that your electrical junction box and wiring requirements are similar to the requirements of your new range.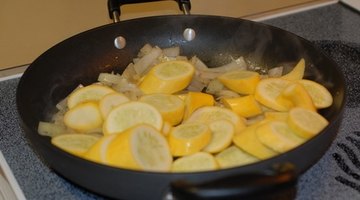 Locate the circuit that powers the countertop range and turn it off. Remove all grills and burners from the top of the countertop range surface.

Remove the ground wire at the end connected to the countertop range using an adjustable wrench. It is located in the cabinet below the electric countertop range.

Remove the cover from the junction box in the cabinet below the range by removing the screws with a screwdriver. Unscrew the wire nuts that connect the two wires inside the junction box. Pull the wires out of the junction box.

Locate and remove the metal brackets that fasten the countertop range to the countertop using a screwdriver or adjustable wrench.

Pry the edge of the countertop range up enough to slide your hand underneath, using a screwdriver. Lift the range up and out of the countertop area and place it aside.

Prepare the new countertop range for installation by attaching the mounting brackets and lining the outer mounting edge with foam tape.

Lower the new countertop range into place and fish the wire down into the cabinet area. Attach the mounting brackets to the cabinets to secure the range.

Feed the wiring from the new range into the junction box in the cabinet. Tighten the strain relief to prevent wires from being pulled out of the junction box.

Connect the ground wire to the grounding screw and tighten the bolt with a small wrench. The ground screw is located on the frame of the countertop range.

Twist the black wires together in the junction box beneath the range and then twist a wire nut onto the wires until tight. Repeat the same process for the white wires. Screw the cover back onto the junction box and fully tighten.

Confirm all electrical connections are made and then turn the switch on in the junction box. Turn the burners on to confirm the range is working properly.
References
Tips
When purchasing a replacement countertop range, try to purchase one that is the same size as the existing one so that you do not have to cut the countertop or modify cabinetry to fit the new range.
Writer Bio
Melissa Kelly is a freelance writer from Indianapolis who focuses on scientific and medical topics. Kelly attended Marian College where she obtained a Bachelor of Science degree in chemistry. Recently, she completed her Master's in business communications & project management.
Photo Credits
More Articles