How to Build a 13' X 12' Home Theater Room
Building a home theater room onto your home or turning an existing room into a theater is a task even the most novice handyman can tackle. For a room with specific dimensions, in this case 13-by-12 feet, it will be easy for you to create a warm and inviting theatrical space. In your home theater you'll want to include a quality surround sound system, a large video screen and comfortable theater seating for family and guests.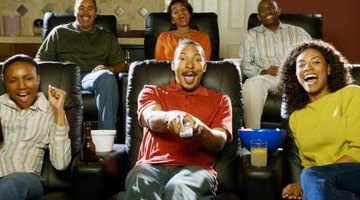 Step 1
Begin with the building basics. A home theater will have just a few simple additions included in the building process compared to a traditional room. Add surround sound speakers into the ceiling. Leave holes in the drywall to house the speakers. Run electric wires to outlets underneath the drywall and purchase a remote control system for ease of use. Drywall walls as usual and consider a flooring option like cork or carpeting for acoustical purposes.
Step 2
Add a big screen to the wall. Every home theater needs a large video screen for movie viewing. If you've already got a flat screen TV, think about hanging it from any wall adjacent to windows to eliminate the sun's evening glare. Include a small hole in the drywall behind the TV to shove cords through, and plug the cords into outlets behind the drywall. This will keep the wall looking neat, clean and wire free. If you want something more elaborate, consider purchasing a video projector and video screen. Video screens can be permanently attached to the wall or portable. A permanently attached screen would be best for a room that is solely dedicated to movie watching.
Step 3
Include seating in your home theater. Any type of seating will work, but for a traditional home theater feel, think about purchasing reclining seats with cup holders. Due to the 13-by-12-foot dimensions of the room, you will need to place the seats approximately 4 to 5 feet away from the back wall. This placement will maximize sound quality and will be a safe viewing distance away from the video screen.
Resources
Writer Bio
Residing in Morgantown, W.Va., Heather Preston began writing professionally in 2010. Her work has been published on Web sites such as eHow and Travels.com. She holds a Bachelor of Science in design and advertising from West Virginia University and is currently attending Fairmont State University as a graduate student in the Master of Business Administration program.
Photo Credits
Creatas Images/Creatas/Getty Images
More Articles