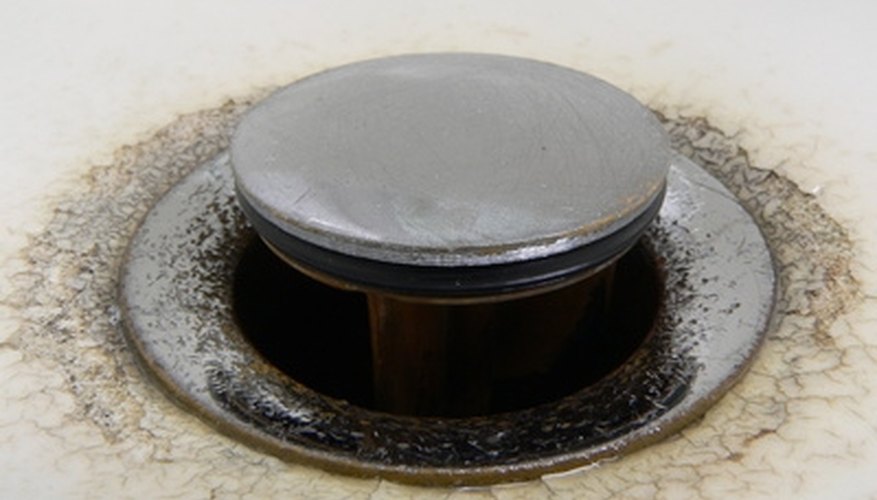 Whether you are replacing an old drain or installing a new sink, the process is the same once you have the sink in place and are ready to address the hole in the bottom. Most drain assemblies come with directions for installation. Before you purchase a drain assembly, though, be sure you are picking one that is compatible with your sink--whether it uses a rod in the back of the faucet to pull the drain down and up, or if it is a self-contained pop-up drain.
Remove the drain from the packaging. Read all directions and warnings that were packaged with the drain.
Disassemble the drain from the package, making note of how it went together. This usually involves unscrewing a large nut and removing a large, black rubber washer.
Roll a ring of plumber's putty (like rolling a snake with modeling clay) that completely surrounds the hole in the bottom of the sink. Place it around the hole in the sink, pinching the ends together. If using silicone caulk, squeeze a ring of caulk around the hole.
Press the drain into the caulk or silicone, making sure it is level and pressed down as far as it will go. Use a damp cloth to wipe off any excess putty or caulk.
Line up the drain so the connection for the pop-up rod is in the back, if necessary.
Slide the black rubber washer onto the tailpiece and push it until it is snug with the bottom of the sink.
Slide the large metal nut onto the tailpiece and screw it onto the threads. After you've made sure the drain is lined up as required for the drain pop-up, tighten the nut with the adjustable wrench.
Connect the tailpiece to the s-trap (if the drain is in the floor) or the p-trap (if the drain is in the wall), and tighten the plastic washer that is on the trap.
Turn on the water and check for leaks. Close the drain and check for leaks again.
Things You Will Need

Drain assembly appropriate for the sink
Adjustable wrench
Plumber's putty or kitchen and bath silicone caulk